I don't know about you, but I have always love Black horses the most. It probably has the most to do with the movie "Black Stallion" that came out in the late 70's. Then of course the "The Black Stallion Returns" that came out in the early 2000's. Either way I was instantly hooked and although we have owned over 40 horses in my life time we have only owned one black horse named Juan. He was an Appendix Quarter Horse and one of the best horses we have ever had. I always wanted to rename him just because there are so many cool names for Black Horses as you will see below.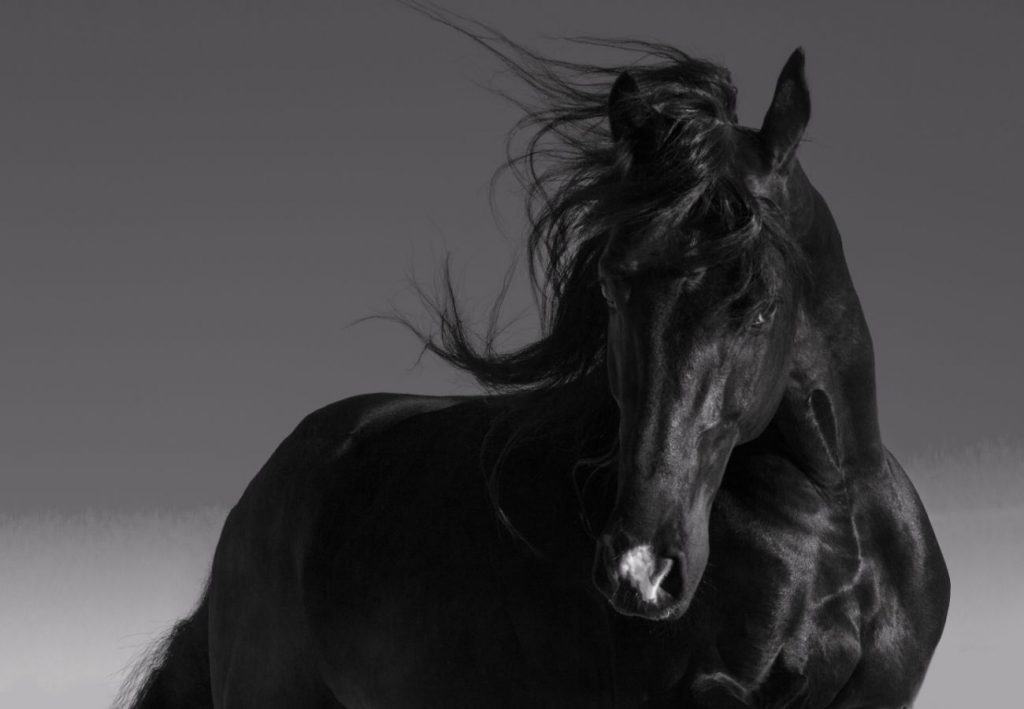 What Do You Call A Black Horse?
Actually there is no other word for a Black Horse like other colored horses. So you would just call them a Black Stallion, black philly, black mare, black gelding, etc.  Black horses will usually have a black mane and black tail as well. Most other horses have other names for their color like a brown horse depending on the shade could be called a Bay, Chestnut, Dun, or a Buckskin. 
What Do You Name A Black Male Horse?
Below we will cover the Best Black Male horse names including that for a gelding and stallion. Doesn't matter the size of the horse even if it is a mini these will go well for him.
Top 10 Names For Black Male Horses
Black Beauty (of course)
Black Jack
Bandit
Ace Of Spades (love this one)
Black Magic
Dark Knight
Eclipse
Zorro
Oreo
Black Diamond
Black Horse Names Female (Mares and Fillies)
Now it is the girls turn and we love these names as well. We currently have two Grey Mares and one Chestnut Mare. So if we ever purchase a breed a black mare I am sure we will like to use one of the below.
Top 10 Names For Black Female Horse
Angel
Bella
Black Star
Black Pearl
Dawn
Chocolate
Harley
Moonlight
Charity
Bellastar
Western Black Horse Names
Since we ride mostly western we are likely to go with the below names as well. These are perfect for your Western Black Horse.
Top 10 Names For Western Black Horses
Shadow
Smokey (love this name since it is the name of our silver lab)
Stormy
Raven
Indigo
Blackie
Black Belle
Black Jack
Moonshine
Dawny
Black Mare, Gelding, and Stud Names (Neutral)
Below are names that can go to any sex of horse whether it is a mare, gelding, or stallion. So if you like one of these you can use it for any black horse you would like to. Let's say you are breeding horses and want to name it if it is a male a certain name or female another this way you don't have to choose between two just pick one of these.
Top 10 Neutral Black Horse names
Dark Angel
Midnight
Moon
Night
Nightshine
Raven
Shadow
Thunder
Star
Stormy
Black Horse Names In Spanish
Maybe you speak Spanish or just love the language or culture. Whatever it is they have some beautiful names for black horse that are below in Spanish.
Top 10 Names For Black Horses In Spanish
El Calabozo (means black hole)
Calabozo (Also means black hole)
Noche Estrellada – means starry night
Nebulosa – means cloudy
Bizococho – actually means brownie
Pequeno Diamante – means little diamond
Poco – means little by little which is probably meant for a stubborn horse
Gran Noche – means big night in Spanish
Noche – means night
Pasos Gigantes – means Giant Steps
Unique Names For Black Horses
Sometimes you just have to be different and unique even when it comes to naming your horses. Below are the top 10 Unique Black Horse names we could come up. Choose wisely.
Top 10 Unique Names For Black Horses
Black Winter
Panther
Black Cloud
Diablo
Blackberry
Shade
Black Rose
Black Beard
Ghost Rider
Mysterious
Black Horse Show Names
So you are going to be showing your beautiful Black Horse? That's great here are some great show names to get them well known and famous right off the bat.
Top 10 Show Names For Black Horses
TopThorn
Black Gold
Kuro
Midnight Sun
Gunpowder
Ace of Spades
Nemesis
Pango
Noire
Peppercorn
Black Horse Names Gelding
Geldings can be a bit more calm then their previous Stallion ways so we need names to reflect that. Below are list of names that suit the Black Gelding you are looking to own.
Top 10 Black Gelding Horse Names
Atlantic Black
Bandit
Atreyu
Bagheera
Badger
Dexter
Mysterious
Nutcracker
Rocky
Smokey
Celebrity Black Horse Names
Here is a list of famous black horses over the years and a description of how they became famous.
Bucephalus (Alexander The Great)
this was the famous horse that Alexander the Great owned and rode. Supposedly this horse was unrideable by everyone except Alexander the great. He took Alexander in and out of battles safely over the years.
The Black Stallion (Novel & Movie)
Walter Farley actually made this horse famous originally in his books until the movie came out. It is about a boy name Alec Ramsey who becomes shipwrecked on a deserted island. On that island he is lucky to find a wild Arabian Stallion. Finally after the boy and horse are rescued they challenge champion horses to a race.
Goliath (Ladyhawke)
This beautiful black horse is off the "Ladyhawke Movie". This is actually a Friesian Stallion which were also used in the medieval knight days. This is the horse that Navarre rides throughout the move.
Black Jack (Riderless Horse)
This amazing Black horse served in the U.S. military infantry also known as the Old Guard Caisson Platoon. He was the last Quartermaster horse of the U.S. Army. Lived out his years in class and also presenting at famous funerals including General MacArthur and two presidents including Hoover and Johnson.
Black Beauty (Famous Novel)
This is an amazing classic that brought Black Beauty major attention with the novel and again with the movie. The book and movie taught about being respectful and kind to everyone.
Ruffian (Queen of the fillies)
One of the most famous racing horses that captured the attention and hearts of millions. Won every race until the end when she lost her life while performing what she loved.
Best Black Horse Names According To Real Horse Owners
So we didn't want you to just take our opinions on the best names for Black Horses so we went out and curated information from a few different forums and websites. These opinions are directly from Horse Owners and Black Horse Owners. The only information we changed was any spelling and grammar that needed to be. We surveyed popular responses on Horse Sub Reddits and Horse & Hound
Real Horse Owners
1. PixieBee "After Dark": 
I have a little black welshx mare. I plan to jump her over the summer so am looking for a 'show' name.These are a few off the top of my head
After dark
angel in disquise
nothing but naughty
skys the limit (sky)
the devil rides prada
2. Elliep25 "Midnight":
Have you considered midnight? or what about belladonna (means beautiful lady in italian) and her show name could be deadly nightshade!?
I do like Black Magic too though thats a lovely name
3. Equestrian92 "Black Magic":
My black horse is called "Black Magic"
4. MichelleIce "Shadow Dancer":
shadow dancer
dark delight
black madness
dawn treader
hmm running out of ideas now lol
5. LittleSoph "After Midnight": 
After Midnight (Midnight)
Black Listed (Lissy)
Black Mamba
Black Velvet (Velvet)
Bête Noire (means Black Beast)
Dance in the Dark (Dancer)
Dark and Stormy (Stormy)
Dark Angel (Angel)
Dark Horse
Dark Skies (Sky)
Heaven at Night
In the Dark
Midnight Hour (Midnight)
Midnight Sun (Midnight)
Night Angel (Angel)
Woman In Black
6. FairyNuff "Nerina":
How about 'Nerina' (pronounced Nereena)-its Italian for 'little black one'.
7. Tamba "Twilight Beauty":
what about Twilight beauty?
8. CeeBee "Black Velvet" 
I like Black Velvet! Velvet is such a cute name.
Or good old Black Beauty!
9. MyDNightShadow "Midnight Fantasie" 
I had a black NF when I was younger and he was called Midnight Fantasie (Midnight). The fantasie part came from one of his ancestors.
A place to look for lots of names of black horses is one of the Pullen-Thompson sisters books from the Black Beauty's Clan series as they all had their fictional pedigrees listed with lots of black horse names. Two I remember are Black Velvet and Black Nightshade, two of the horse stories they wrote.
Great childrens books in the vein of Black Beauty although I haven't read them since I was at school (a long time ago now!).
10. Old Bat "Black to Basics":
My ideas seem a bit warped by comparison to some of the beautiful names you have all thought of…
Black to Basics
Black to the Future
Black Eyed Pea
Black Sabbath
11. Dovorian "Isla Negra":
I've had 2 black horses:
Isla Negra
Amour Noir
Weird I know…….
12. Kal40 "Opal":
Our black welsh D is called Opal (Im guessing you get black opals). and her passported name is Gwarchod Welsh Countess.
13. TheShark "Oya":
What about Oya – it's the goddess of thunder in the Yoruba religion (whatever that is!)
Or – more relating to the black theme:
Inky sky
Queen of clubs/spades (aka Queenie)
Bella Noir
She looks gorgeous.
14. BitlessBill "Midnight Magic":
Bill is black and his show name is Midnight Magic.
15. Neddyynesbitt "The Prince or Princess of Darkness":
My friends lad is called The Prince of Darkness, Ozzy for short
How about The Princess of Darkness
Top 100 Black Horse Names List
Below is the entire list of 100 horse names so you can take your pick to make the best pairing with your horse. Hope this article helped and good luck.
Ace Of Spades

Angel

Atlantic Black

Atreyu

Badger

Bagheera

Bandit

Bella

Bellastar

Bizococho – actually means brownie

Black Beard

Black Beauty

Black Belle

Black Cloud

Black Diamond

Black Gold

Black Jack

Black Magic

Black Pearl

Black Rose

Black Star

Black Winter

Blackberry

Blackie

Calabozo (Also means black hole)

Charity

Chocolate

Chocolate chip

Cobra

Condor

Dark

Dark Angel

Dark knight

Dark sunshine

Dawn

Dawny

Dexter

Diablo

Domino

Ebony

Eclipse

El Calabozo (means black hole)

Equinox

Expresso

Fire

Flicka

Fonzie

Ghost Rider

Gran Noche – means big night in Spanish

Gunpowder

Hades

Harley

Imperial black

Indigo

Inferno

Jaguar

Kuro

Licorice

Midnight

Midnight express

Midnight Sun

Moon

Moonlight

Moonshine

Mysterious

Mystery

Nebulosa – means cloudy

Nemesis

Night

Nightlight

Nightshine

Noche – means night

Noche Estrellada – means starry night

Noir

Noire

Nutcracker

Onyx

Oreo

Paint it black

Pango

Panther

Pasos Gigantes – means Giant Steps

Peppercorn

Pequeno Diamante – means little diamond

Pirate

Poco – means little by little which is probably meant for a stubborn horse

Raven

Rocky

Shade

Shadow

Smokey

Solar eclipse

Sorcerer

Spider

Spooky

Star

Stormy

Stormy

Tapenade

Thunder

Thunderstorm

Top hat

TopThorn

Truffles

Volcanic

Volcano

Wizard

Zombie

Zorro
Summary
Whatever name you choose will be the right one for your horse there is no wrong names as it will grow on you and he or she no matter what. Hopefully this has helped make it easier on you. The users also came up with some very unique names I would have never thought of. I have only owned one black horse ourselves named Juan so nothing to unique about that, but we loved Juan and his name.
Good luck on your name picking!