23 Things Every Horse Owner Should Have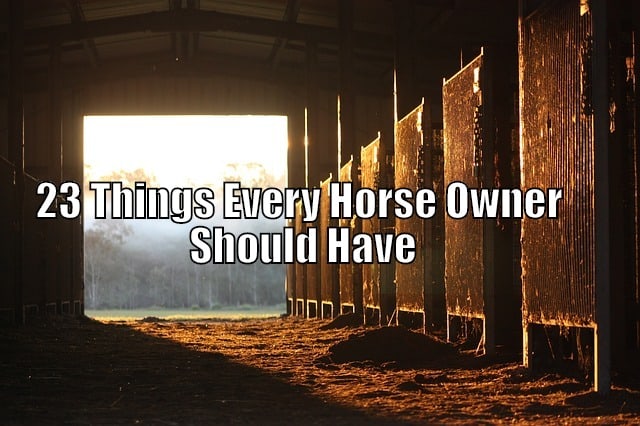 If you want your horse to thrive and live healthy and comfortable, there are essential things you need to ensure you keep in mind. Maintenance and care is especially crucial for good upbringing and wellness of your horse. Treats are also important as they help you build a lasting bond with your horse. For example, you know they love carrots so get them some every time you fetch them for a ride and you will succeed in your quest to nurture a well-mannered and calm domestic horse.
You should consider visiting an expert or experienced horse rider and consultant. Here, you will learn about all the tools you need for a perfect start into horse care and maintenance. The nearest experienced and skillful rider near you should be the best option for practical learning. Research extensively too so you will not be limited with information concerning your horse's wants and needs.
Here is a list of must-have equipment and tools for your horse.
EQUIPMENT:
1. Round Pen
A Round Pen is an indispensable training place for a horse owner and fan. It is the safe place, which offers confinement and an area to work or ride your horse. This wooden round be completed in one weekend but serve you for many years. The standard size of a round pen should range between 50 feet in diameter. 5 feet of height are enough for the pen but can be modified according to your preferences later.
Building a round pen is extremely important but not necessarily expensive or demanding. The resources are easily accessible and cheap. For example, posts, rails, and footing can help you make an adequate round pen without spending a fortune. If you are on budget and want to keep minimum expenses on your round horse pen, you can take some few ideas and tips here.
2. Grooming Tools
Your horse needs frequent grooming to maintain good hygiene. Moreover, you can tighten your bond with your pet as you boost its health. Cleaning the coat and hooves is an essential part of the grooming. You probably know how much they like to be brushed and have their hooves picked to reinforce their bond. Here are some of the tools you need for proper groomin
3. Hoof Pick
This will help you to clean debris out of the frogs of your horse's hooves. You should be careful not hurt the horse because the gaps can be sensitive to touch especially by a sharp object. The picking process should therefore be gentle and consistent until your horse gets used and appreciates it.
4. Curry Comb or Hard Plastic Brush
They will help you get debris off the horse's coat fast and easy while concentrating on the stubborn stains. Do not let your horse stay with dirt and debris if you love him or her. Take time to scratch away all debris using the currycomb or hard plastic brush as frequent as you can. Shedding blades come in handy in this process too. The blades allow your horse get rid of its thick winter coat in the springtime
5. Soft Brush
A soft brush feels good to your horse and brings out the shine in its coat. Your horse loves this moment and will allow you to build a lasting bond. Take time to groom them using the soft brush to show how much you care. It may seem a little gesture but it goes a long way in building your relationship.
Tack
The tack you need for riding is dependent somewhat on the style you choose. Some of the tack essentials include
6. Halter
A halter is one of the most fundamental, most basic, and critical piece of tack. The halter will allow you to handle and restrain your horse before you set the bridle as well as after you take it off
7. Saddle
Select the saddle according to your style preference. They range from English, Western, or Saddleseat. Note that there are some other variations within the major saddle types. They include but not limited to; jumping or dressage saddles for English riders or roping saddles for Westerners. Western riders like the sport. However, most regular riders are contented with a good, all-purpose type, which they can get by easily
8. Saddle pad
A saddle pad depends on your choice of the saddle. The appropriate saddle pad ranges as widely as the available saddle types. This means you can access everything from a very plain standard pad to expensive orthopedic varieties. Your saddle pad choice also depends on what sport you want to engage in and how long you will be spending out on your horse. Some are more comfortable than others but it still depends on the amount of money you will be ready to part with for the comfor.
9. A Bridle and Bit
Your choice of bridle and bit will depend on the exact type of bit (or bosal or hackmore if you ride bitless). Select one that works best for your horse. Do not force your horse to take something that hurts them or affects their comfort. Before you find the right choice, keep looking and keep changing
10. Hoof Treatments
Hoof treatments are a-must considering the wet seasons. Beware that rainy seasons make horses prone to thrush and dry spells where a hoof moisturizer is a necessity. You should therefore, Keep remedies for both dry and thrushy feet on hand at all times for the safety and comfort of your horse.
11. Wound Powder
Horses are easily susceptible to cuts, scrapes, and other minor injuries. However, these injuries do not necessarily need veterinary attention but quick minor repairs. This does not mean you should ignore them because they need all the help they can get. Get prepared with a first aid kit especially in powder form as it works best because they dry up any blood fast and easy. If you want to be adequately prepared for horse emergencies, you should keep an animal first aid kit around the barn
12. Treats
Just like your best friends of family, you should have treats for your hose. They can be as simple as carrots or as elaborate and complicated as purchased goodies. The gesture of giving your horse goodies as frequent as every time you go out to fetch him, you will be building up a strong positive association with catching your horse. If on the other hand, they seem to get bored in its stall, you can opt for a combination toy and treat dispenser like the Jolly Ball treat combo
13. Sand Footing
If you have a sand base, you have the best surface for your footing. This is the best option for a pen on a budget. You should also ensure that your drainage issues are catered by a sandy foundation. If not, you need to till the surface until you achieve loose soil about 4 inches deep for horses home. Get a tiller for about $40 per day in any DIY centers near you. This will help you prepare the best surface for your horse. If you are in a farm with other parts of it requiring some face uplifting, you may use the tiller so that you spare the hiring cost and make the most out of it. This would be taking advantage of the opportunity to boost the overall look of your garden. For example, take a look around for flower beds or other parts that need rejuvenation back to liveliness. Let your garden spring back to life with a little tilling. By combining projects, you can help cut down your budget even further and spare time and other resources.
After long-term use, your round pen footing is expected to become packed down. You will need to haul in sand occasionally to cushion the already congested layers. You may need to purchase a truckload of sand at between $100 and $200 for improving the footing. This is a worthwhile investment that you should make a habit of in your round pen. The sand will provide a good working surface for your horses and keep it dry by absorbing the urine and rain quickly to keep it dry. You will not be seeing any mud on your footing if you keep hauling sand after some time. If you fail to do this, you risk getting a pond for a surface. This is unhygienic and a violation of animal rights' too.
OTHER ESSENTIALS:
14. Stud cleaning Tap
Study cleaning taps will make your work easy. Ensure that you found a high quality one that does not easily break or you will be replacing them often.
15. Duct tape
Duct tape might be a minor overlooked item but can play a great role in your horse care and maintenance. The tap will help you to make quick hoof-bandaging solutions among other many quick strapping alternatives
16. Wrist warmers/fingerless gloves.
They will help you make a good safe and firm grip whenever you are working. You can avoid the annoying moments when you have to pull them off every time. These fingerless gloves are convenient especially when adjusting bridles
17. Rubbermaid foldable steps
The foldable steps make it easy to mount a horse with minimum trouble. To do this, you need to get quality Rubbermaid steps as they are the most convenient foldable steps available.
18. Baby wipes
You cannot ignore the essence of baby wipes. They will allow you to effectively remove stains, clean bums and eyes, without a hassl
19. Ariat Bromont Insulated Boots
You need insulated boots to keep you safe from any impending hazards. These insulated boots come with warm and waterproof plus the zips to make them incredibly easy to slip on and off.
20. Pariani overreach boots
The over reach boots are convenient for a hunter that pulls their shoes off and generally don't turn inside out, even when in deep mud
21. Thermatex boots
These are the solution to keeping horse legs warm during winter. They are useful for horses with poor hoof growth. They will protect them from extreme weather and keep them safe from freezing winter.
22. SEGS gloves with rubber palms
Although rare these days, these gloves are great when working or cleaning the pen. Find out whether they exist in old reputable store
23. Ride on waterproof saddle cover
Waterproof saddle cover is your solution for replacing wet leather as it can be horrible during winter or rainy seasons. They are durable and withstand any spills for your comfort.
Conclusion
If you decide to keep your horse at home, remember to add grain or pelleted feed and good quality hay to the list of essentials, and the animal needs access to a clean water supply. Your horse needs to be treated with care and love to boost its health and performance. High standards of hygiene in the pen and their bodies are a priority if you are serious about building cohesion with your horse. A strong bond will only come from continuous and consistent care for their cleanliness and food. You may adjust your equine's diet depending on the amount you are willing to spend on it. For example, if you have a good pasture where you can allow it to graze, make it a priority. Most importantly, you should visit an expert or experience horse rider or consultant to learn about all the tools you need for a perfect start into horse care and maintenance. The nearest experienced and skillful rider near you should be the best option for practical learning. Research extensively too so you will not be limited with information concerning your horse's wants and needs. Beware that consistency in cleaning and maintenance of your horse will be the trick to getting their attention and building the desired bond.