We have mostly western horses which are both Quarter and Appendix Quarter horses over the years. Naming them has been a lot of fun and also purchasing older horses with some amazing names as well. Phantom Dancer is one that we purchased 20 years ago and he is still one of our favorite horses to ride. Picking a name is a big responsibility whether you are going to be showing or just trail riding your horse it is a name that will stick with them throughout their lives.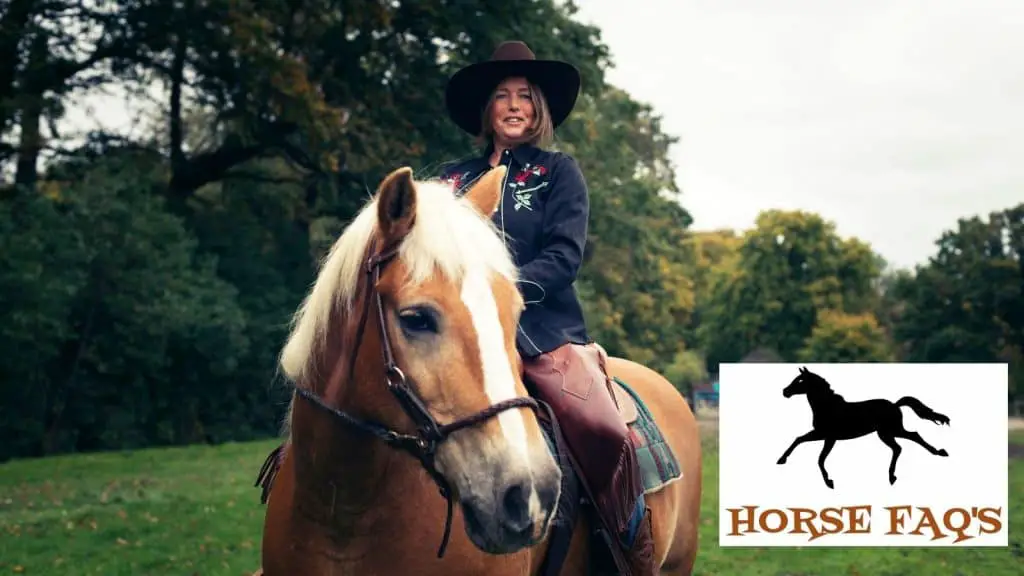 Top Western Horse Barn Names
Ahni
Equus
Ambush
Barcardi
Duke
Stout
Epona
Howdy
Muse
Chisam
Bandero
Chap
Sling
Thor
Dallas
Aiden
Bessie
Scuds
Pride
Jake
Top Western Horse Show Names
Diamond Cowboy
Jeanine Kern
Elora Barrons
Corey Curtis
Vicki Pitts
Tracy Cowin
Angela Morrow
Cowboy Caper
Tammy Botsford
Wanted Outlaw
Gunslinger
Grace Curson
Silver Bullet Babe
Nicole Major
Shotgun Ryder
Crystal Cowgirl
Grace Curson
Crimson Tide
Classic Endeavor
Kathy Tobin
Sheila Jipping
Brent Specht
Elora Barrons
Lisa Johnson
Mackenzie Preston
Jennifer Jubb
Connie Pearson
Caitlin Raysser
Caiti Gordon
Rebecca Davi
Mares and Fillies Western Horse Names
Alene
Flossie
Ruby
Della
Rebba
Lulamae
Patsy
Bourbon
Tulsa
Curly
Aretha
Paisley
Maybelle
Olie
Millie
Grainger
Montana
Dolly
Candy
Cody
Loreta
Autry
Trixy
Anie
Delilah
Lady
Topeka
Wynoma
Betsy
Miranda
Gipsy
Kate
Lakota
Jolene
Western Horse Names For Geldings and Stallions
Yukon
Senator
Hunter
Doc
Rider
Carter
Rhett
Gene
Carter
Clyde
Banjo
Rocky
Cisco
Canyon
Angus
Blaze
Sundance
Graizer
Spurr
Lasso
Nevada
Sierra
Bailey
Garrett
Ropper
Mav
Buck
Pancho
Bucky
Summer
Cool Western Horse Names
Sling
Skillet
Frisco
Chopin
Chaps
Hyde
Wrangler
Boots
Ark
Dickinson
Renno
Snack
Sheik
Red Buckt
Tonco
Blaze
Clay
Eldorade
Bronco
Duck
Dixie
Clyde
Tequila
Roper
Best Western Horse Names
Rio
Chisholm
Oakley
Boston
Tonka
Apache
Banner
Zane
White Feller
Ponca
Loco
Pete
Rusty
Kaith
Pardner
Taco
Buster
Emmett
Billy
Goodeye
Gomez
Chappy
Pal
Winalot
Jagged
Jolly
Champion
Gallop
Wild Bill
Wrangler
Dakota
Windago
Woohoo
Boothill
Larry
Russell
Pardner
Pete
Phantom
Ollie
Deuce
Old Blue
Rodeo
Ranch Horse Names
Kamil
Durango
Othello
Pablo
Raymon
Tony
Ramiro
Gunner
Florentino
Azul
Sherman
Chan
Sarsour
Rami
Anselmo
Placido
Barron
Lycus
Nevada
Hidalgo
Peleus
Bernard
Wrangler
Robin
Latigo
Sebastian
Zafir
Cassidy
Cajun
Haleb
Montana
Cherokee
Mauro
Danilo
Julian
Gadiel
Ivan
Jarrah
Southwestern Horse Names
Rebel
Tex
Weylon
Billy Ray
Peaches
Cash
Pursuit
Fuji
Nellia
Moonshine
Lil' Bit
Mary Hinge
Horse Names From The Old West
Orchid (1964-2015): Orchid is the oldest female horse in the world. She was 49 or 50 years old (different sources mention different ages) in late 2015 when she passed away. The abandoned and abused broodmare spent the remainder of her life at the Remus Memorial Horse Sanctuary, where she died peacefully.
She was rescued a year before she died, and after the sanctuary's workers improved her health, she was able to enjoy her final days.
Shayne: Shayne made headlines in 2012, a year before he died when his owners at the Remus Memorial Horse Sanctuary in Essex considered entering him into the Guinness Book of World Records.
Guinness officials said at the time that Shayne's owners could nominate him for examination since no one had claimed the title of world's oldest horse since Badger, who was 51 at the time, died in 2004. Shayne was never included in the novel, and Badger still holds the record.
Old Billy: Old Billy is widely regarded as the world's oldest horse. He was born in Woolston, Lancashire, England, around 1760. Old Billy was a barge horse for Mersey and Irwell Navigation, and he spent his life pulling barges in the canals from the sea. Billy outlived the normal horse's lifespan and continued to function through his bending back.
Prospect Point: He was once a competitive track racer who was later purchased to be used as a show hunter. Gail Earle, his previous owner, had him for 28 years.
Magic: Magic the horse, who turned 46 in 2015, was honored. Bob and Mary Manns own her, and she lives on their Fallbrook, California ranch. Magic is also powerful enough to teach children who are learning to ride for the first time.
Magic used to be a competitive barrel racer and pole bender before settling down to a more peaceful life. She most recently played in 2011, winning seven awards at the Valley Center Vaqueros Club.
Famous Western Horses and Names (Explanation)
Buster: Clint Eastwood, the famous American actor, film director, composer, and producer, owns this horse.
Flash: Eddie Dean, an American Western singer who has been dubbed the "best cowboy singer of all time," owns this horse.
Trigger: Trigger first appeared as Golden Cloud in the 1938 film The Adventures of Robin Hood, starring Errol Flynn and Olivia de Havilland. In the film, he was Miss de Havilland's horse. The Palomino stallion was purchased by Roy Rogers and renamed Trigger.
Black Jack: As Will Bill Elliott was filming as Red Ryder, he rode Black Jack, which was originally called Thunder. Lane would ride the same horse as Elliott and take over the role. Lane purchased the horse and called him Black Jack when he became Rocky Lane. They starred in over a hundred films together.
Champion: From 1935 to 1953, Champion starred in over 70 films with Gene, as well as Gene's television series. In 1955, Champion had his television series, The Adventures of Champion, which followed Gene's.
However, there were three Champions. In 1947, the first died. The third lived to be 42 years old when he passed away in 1991.
Silver: Silver appeared in only two films as the Lone Ranger's horse, both of which are still available. More were shot on Republic Pictures' back lots, but they are not visible. In the television series of the same name, Silver will continue to be the Ranger's mount.
Tony: Tony was dubbed the "Wonder Horse" for the first time. He dazzled the crowd with his dazzling tricks. Tony starred alongside Tom Mix in several films, and he was the first horse to share screen time with a human co-star.
Buttermilk: Dale Evans must have considered herself very fortunate to have Buttermilk by her side! The history of the buckskin Quarter Horse is fascinating. He was saved as a colt by a farmer on his way to a slaughterhouse.
He was trained for both roping and cutting horse competitions after his rescue. Glenn Randall, a legendary Hollywood trainer, finally bought him. Buttermilk was later loaned to Dale Evans by Randall. The rest, as they say, is history!
Raider: In several films, he played the Durango Kid in the 1930s and 1940s. Raider was the name of his horse. His other name, which was normally "Steve" and whose last name changed from film to film, was a running joke (Reynolds, Baldwin, Holden, Ramsey, etc.). Charles Robert Starrett is another name for him.
"The Quarterback," his first film, was released in 1926 (as extra).