Barrel racing has been one of the longest passions I have had when it comes to riding horse. I barrel raced throughout my teenage years competively both at fairs and the National High School Rodeo. It was a great experience and I loved every minute of it. These are some of the quotes you can use to get through the ups and downs to keep you motivated for barrel racing.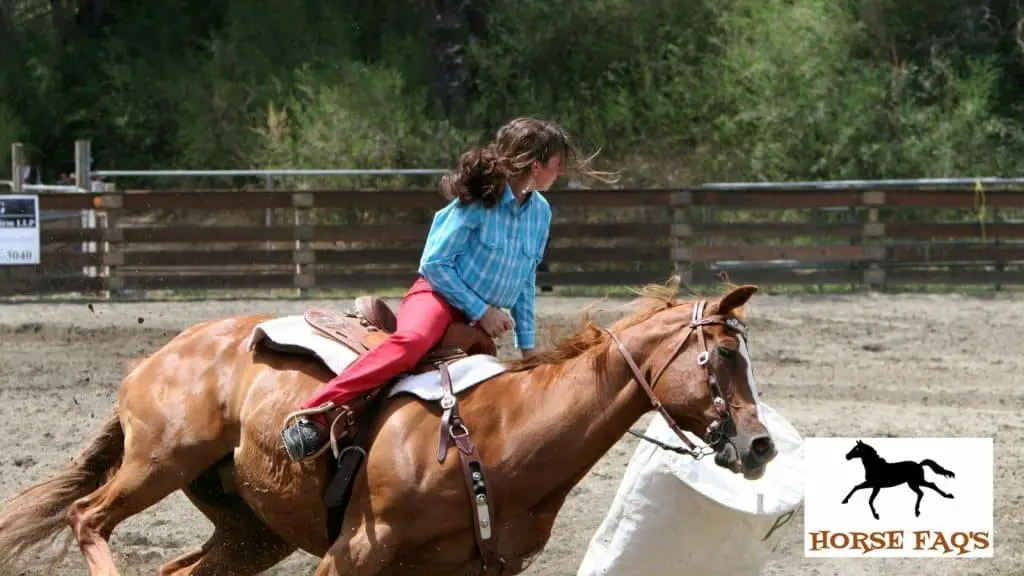 Best Barrel Racing Quotes
"The horse. Here is nobility without conceit, friendship without envy, beauty without vanity. A willing servant, yet never a slave."
Ronald Duncan.
"There are so many people that will say you can't, what you need to do is turn around and say WATCH ME."
Unknown Author
"You mentally get a hold of yourself and don't let that moment control you. You go do what you have done a million times. You go get around three barrels."
Sherry Cervi.
"Only a man who has his health, a full stomach, and wears clean clothes would ever entertain the notion of tracking down the greatest lost city on Earth."
Tahir Shah
"Why worry? If you have done the very best you can, worrying won't make it any better."
Walt Disney
"Don't ever let anyone turn your sky into the ceiling."
Unknown Author
"She should just go ahead and be one."
Unknown Author
"What blinds us, or what makes historical progress very difficult, is our lack of awareness of our ignorance."
Terence McKenna
"I figure if a girl wants to be a legend, she should just go ahead and be one."
Calamity Jane.
"Ride aggressive, be confident because it's all or nothing, and the number one thing is you cannot ride timid."
Charmayne James.
Good Barrel Racing Quotes
"Be not deceived. Revolutions do not go backward."
Abraham Lincoln
"The only thing crazier than a barrel racer is her horse."
Unknown Author
"Amazement awaits us at every corner."
James Broughton
"Don't be afraid of the girl that decides to run, it's half the fun."
Emily Peak.
"If my horse doesn't like you, what makes you think I will."
Unknown Author
"If you aren't afraid of the speed, then you aren't going fast enough."
Unknown Author
"You definitely have to work hard in life for the things you want. Don't let good opportunities pass you by"
Unknown Author
"Champions believe in themselves when no one else does."
Unknown Author
"One of the saddest lines in the world is, 'Oh come now – be realistic.' The best parts of this world were not fashioned by those who were realistic. They were fashioned by those who dared to look hard at their wishes and gave them horses to ride."
Richard Nelson Bolles.
"Let's see you ride a 1200 pound muscle machine at full speed turning barrels on a dime and still keeping your balance."
Jennifer Means
Cute Barrel Racing Quotes
"It doesn't matter what people say and it doesn't matter how long it takes to believe in yourself and you will fly high."
Unknown Author
"Barrel Racing is not an event, it's a way of life."
Unknown Author
"Every time I ride, my heart is no longer in my chest but between my knees"
Unknown Author
"Everything she knew came from living on the scarce side of mercy."
Sue Monk Kidd
"If dust ain't flying, you ain't trying"
Unknown Author
"Gold buckles are made of sweat, determination, and ability to never give up."
Unknown Author
"When you believe in yourself, you have already circled the third barrel."
Unknown Author
"The path of my heart is paved in hoofs print."
Unknown Author
"Sometimes all you need is 20 seconds of insane courage."
Unknown Author
"Ride it, like you stole it."
Author Unknown
"What lies behind us and what lies before us are small matters compared to what lies within us."
Brianna Dixon.
Funny Barrel Racing Quotes
"There are no bags of carrot at the end of the race."
Clinton Aderson
"There are only two emotions that belong in the saddle; one is a sense of humor and the other is patience.
John Lyons
"You are only as good as your pit crew."
Unknown Author
"You can take the horse out of the wild, but you can't the wild out of the horse."
Ericah
"Respect and rapport are critical for a successful relationship with your barrel horse."
Unknown Author
"I never fall off. I just, dismount with style"
Unknown Author
"Treat you as good as my horse…. I don't think so."
Lenora
"The more I get to know men…The more I love my horse."
Unknown Author
"Who needs men when you have a horse? oh..wait..someone's got to do the paying."
Unknown
"Words are as beautiful as wild horses, and sometimes as difficult to corral."
Ted Berkman
Inspirational Barrel Racing Quotes
"If It's Not Fast, Fun and Dirty…Then I Don't Do It"
We know it's enjoyable, and everything gets muddy with horses, so barrel racers like it fast. That's the beast's nature, and we prefer it that way. At a rodeo, there's no place for pretentious snobs.
"Look up not down; look forward not back; look towards your goals not back at your failures."
Life is full of ups and downs, and where you look is where you'll end up, just like in any riding discipline. It's one of the most important lessons we can learn from riding. We will end up where we want to go if we concentrate on where we want to go.
"3 Turns, 2 Hearts, 1 Soul."
It all comes down to you and your horse becoming one. It's the same in any sport, except with barrel racing, you're either linked or you're falling.
"Don't compare yourself to others or their work, just do your thing."
Barrel racing builds confidence in its participants. It educates riders that there is no such thing as a one-size-fits-all solution. It's possible that what works for one individual won't work for you. Following your instincts and doing what feels right, as well as changing when you fail and remaining focused, are all crucial lessons to learn.
"Barrel Racing Is Not An Event, It Is A Way Of Life."
Barrel racing is a sport that can start as a fun experiment and turn into a passion. It even becomes a way of life for some. Sure, you may have coworkers who enjoy hiking, kayaking or even crocheting in their spare time, but they have no idea what they're missing out on.
"Don't be afraid of the girl that decides to run, it's half the fun."
Barrels racing not only teaches you about horses and life in general, but it also teaches you about relationships and trust. Don't mistake a girl who runs for one who is fleeing; she may simply know where she is going and how she intends to get there quickly.
"Our Family is Just the Right Mix of Barrel Racing & Love."
Let's be honest. When a family barrel races together, they stick. There's nothing like horses to bring a family closer together. Barrels racing is a sport that the entire family can enjoy, whether it's at home making sure everyone is fed, on the road getting pumped for a new event, or on the arena side cheering each other on.
"There are no shortcuts to any place worth going."
While barrel racers are focused on achieving their objectives as quickly as possible, they also understand that getting from point A to point B takes time. As a result, while speed is important, so is determination and consistency.
"I Used To Have Money: Now I Have a Barrel Horse"
Nobody said horses were cheap, as I already stated. The $100 you earned at your last barrel race won't even scratch the surface of the cost of the truck, trailer, gas, training, equipment, and the horse you used to get there. That's fine, though; when you over that timing line, money doesn't matter.
"Let's see you ride a 1200 pound muscle machine at full speed, turning barrels on a dime and still keep your balance."
Barrel racing teaches you how to keep your balance. This is true both in and out of the saddle. You'll fall out of the saddle if you don't have the correct physical and emotional balance. This type of harmony is carried over into all aspects of life, making barrel racers more resilient and hardworking than the average person.
"I'm A Barrel Racer: What's Your Super Power?"
Running barrels is a difficult sport for both girls and boys. Being able to keep balanced on a 1200 pound animal going as fast as it can around three barrels in an arena is our superpower. The barrel racer's superpower is staying on and wanting to do it again in a sport where race-horse speeds can be attained and high-velocity turns are the norm.
"Your Kid Plays Violin? That's Cute."
Right, everyone wants to talk about their child. Young Johnny is a karate master, and little Susie is a musical prodigy. That's a youngster with grit when her six-year-old can outrun the competition on her barrel horse.
"Barrel Racers: Cowgirls With a Thing for Bling and Speed."
Barrel racers enjoy bright, sparkly, and rapid objects. Dressing up for a barrel race is a great opportunity to exhibit your creativity. In the barrel area, we see everything from gleaming shirts with metallic fringe to rhinestones and studs. Most events allow you to dress to the nines as long as you meet the dress code minimums.