Horses have been around for what seems like forever being a part of history in America and also across the world. I always loved learning about horses in history class from Native Americans to Medieval times. Most of all I loved learning about the Wild West from when we were first expanding across Rockies to when the Railroad was coming through.
Growing up in the Colorado I always wanted to be a mountain man when I was younger then of course watching all the Wild West movies like Tombstone gets you wanting to ride horses across the west pushing cattle and such.
Horses definitely helped win the west and this post is dedicated to all the horses that can relate to a Cowboy Wild West name hope you enjoy.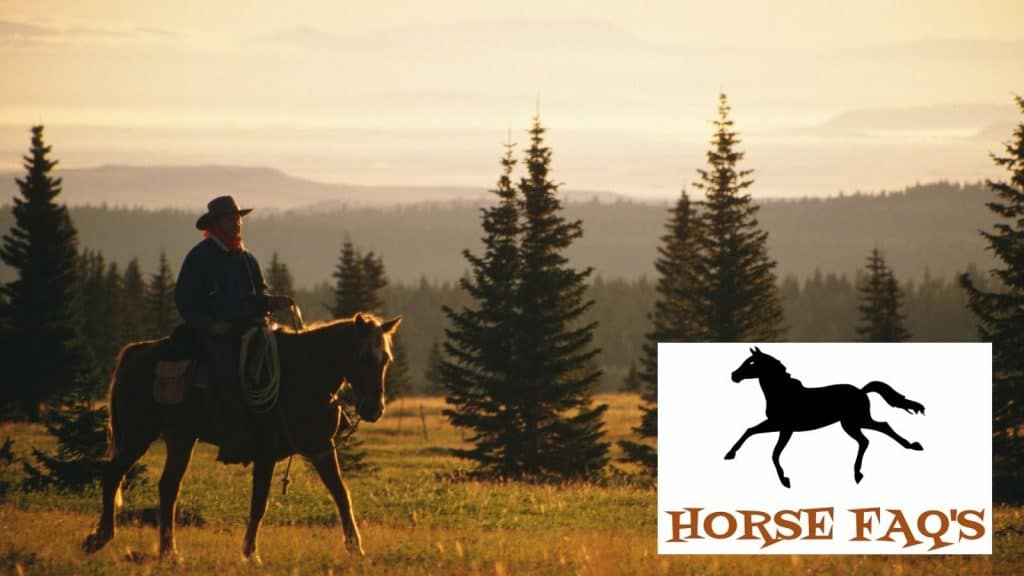 Cowboy Movie Horse Names
Chub:
It was difficult to find a horse that could carry a man the size of Dan Blocker, as one would expect. Chub, a dark bay Appendix Quarter Horse with three white socks and a flame, was the one they sought.
Pie:
Take a look at James Stewart's love for a horse called Pie if you need any more proof that he was a good guy. Pie's retirement at the age of 29 came after Stewart finished filming Bandolero, and he rode the horse in 17 films.
Trigger:
Trigger first appeared as Golden Cloud in the 1938 film The Adventures of Robin Hood, starring Errol Flynn and Olivia de Havilland. Trigger was never bred, contrary to popular belief. As a result, Trigger, Jr. was not a descendant of his. Trigger passed away in 1965.
Highland Dale:
Joel McCrea, a real-life rancher, and actor, is out to catch a wild stallion called Outlaw in Black Horse Canyon. The movie's equine star might be familiar to you. This magnificent horse also appeared in the television series Fury. Highland Dale (AKA Beauty, Fury, and Gypsy) was an American Saddlebred whose earnings as a Hollywood animal actor were second only to Lassie's when he retired.
Stable to the Star:
Fat Jones Stables of North Hollywood supplied rental horses for riding, driving, and stunts for several Western shows and movies for over six decades, from 1912 until 1975, when they closed the barn doors for the last time.
Gabby Hayes:
Gabby didn't learn to ride until she was 40 years old. Calico, Eddie, and Blossom were among the three horses he rode in his films. Gabby Hayes was the most well-known sidekick in the history of western films. Since he didn't ride much, his horses were never very well-known.
Koko:
Koko starred in over 30 films as Allen's horse, and when Rex retired, he took him to his ranch with him. Koko was born in 1940 and died in 1967.
White Flash:
White Flash co-starred Tex in 20 films. They used different white horses in Tex's later films and still referred to them as White Flash, but the real White Flash was too old to play the role. In 1961, he was put to death.
Buckshot:
The horse of Wild Bill Hickok in the TV show "Adventures of Wild Bill Hickok," which aired from 1951 to 1958. Buckshot was ridden by Guy Madison as Hickok, and Joker was ridden by Jingles.
Cochise:
For the first six years of the series, Michael Landon rode Cochise, a flashy paint that acted as a stunt double for other paints. A knife-wielding intruder broke into Fat Jones Stable one night and wounded some horses. Sadly, the veterinarian was unable to save Cochise.
Western Cowboy Horse Names
Rodeo
Shanty
Cash
Buth
Mike
Scuds
Bronco
Calamity
Black Diamond
Eldorado
Buttermilk
Buckaroo
Outlaw
Tony
Shamrock
Tequila
My Pop
Short Gun
Yeehaw
Shooter
Tarzan
Loco
Rober
Cochise
Comet
Cassidy
Howdy
Banner
Clyde
Mutt
Banjo
Sundance
Cannon
Ambush
Dixie
Appolo
Rebel
Gunslinger
Rex
Eagle
Bingo
Chub
Starlight
Midnight
Swampy
Billy
Knight
Razor
Rafter
Marshall
Foamy
Dawn
Blaze
Belle
Pete
Ollie
Vaquero Horse Names
Vaquero "is a Mexican cowboy's name. The vaquero was the pioneer of the modern-day cowboys in North America. The vaqueros of the Americas were New Spanish horsemen and cattle herders who first arrived in California in 1687 with the Jesuit priest Eusebio Kino, and later with expeditions in 1769 and 1774 led by Juan Bautista de Anza. They were the region's first cowboys.
Names & Meaning
Fernando – Intelligent
Belinda – Beautiful Serpent
Mincho – Favorite Son
Chica –  Little girl
Justina – Righteous
Brisa – Breeze
Cuco – Adorable Child
Felipe – Horse Lover
Carina – Beloved
Zelia – Sunshine
Orlando – Master of All
Leonardo – Strong as the line
Chiquita – Small One
Flavia – Having Golden Hairs
Gregorio – Courageous
Safira – Sapphire
Sol – The Sun
Amias – Beloved
Jade – Jemstone
Jove – Wise
Catalina – Great Purity
Luna – Moon
Estala – Like a Star
Hernan – Brave
Linda – Cute
Socair – Calm
Supermose – Supreme
Joven – Young
Adab – Hope
Galo – Rooster
Rita – Pearl
Zelia – Sunshine
Luz – Light
Justina – Righteous
Eva – Light
Paloma – Dove
Pazel – Peaceful
Ranch Horses Names
Erato
Rokit
Wisad
Alita
Swallo
Aracelia
Porthos
Toy
Fancy
Flyer
Draco
Dabir
Mica
Goliath
Blazing Comet
Paint
Champion
Limelight
Molina
Durango
Robin Hood
Camila
Glory Days
Solon
Ciri
Starsky
As a Memory
Trixie
Netty
Redwood
Brook
Viking
Zayna
Contiki
Munga
Rainbow
Citation
Othello
Butchy
Crocker
Wyatt
Silver Storm
Contiki
Baloo
Zylan
Amalia
Frilly
Boston
Flicka
Carmen
Hidalgo
Turkoman Horse Names
The Turkoman horse, also known as the Turkmene, was an Oriental horse breed that originated in the Turkoman desert's steppes. The Akhal-Teke is considered to be its nearest modern descendant. Many modern horse breeds, including the Thoroughbred, were inspired by it. Turkoman horses are still bred in Iran and Turkmenistan today, and they have similar characteristics. Some turkoman horse names are mentioned here
Silver Dollar
Slovak
Sorraia
Tarpan
Boomer
Goldie Fawn
Brumby
Tori
Night Out
Canik
Anubis
Tushin
Quinton
Xanthus
Vesta
Balius
Buddha
Halifa
Mariposa
Webster
Nirvana
Boyka
Chakouyi
Imperial Black
Duke
Bitcuk
Marsh
Quarab
Mustang
Roi
Charmeuse
Claude
Mauser
Carola
Merida
Schnaps
Galileo
Marcus
Famous Cowboy Horse Names
Copper: Ridden by Bruce Campbell
Sport: Ridden by Adam in Bonanza
Feather: Ridden by Allan Lane
Pete: Ridden by Gary Cooper
Swampy: Ridden by Dan James
Steel: Ridden by Tim Holt
Black Jack: Ridden by Black Jack
Sandy: Ridden by Buck Jones
Pal: Ridden by Bob Allen
Zip Cochise: Ridden by John Wayne
Reno: Ridden by Johnny Mack Brown
Maypop: Ridden by Bobby Kerr
Apache: Ridden by Tom Mix
Zane: Ridden by Bob Steele
Target: Ridden by Annie Oakley
Loco: Ridden by Pancho
Sugar: Ridden by Don Murray
Ollie: Ridden by Maverick
Scar: Ridden by James Stewart
Goldie: Ridden by Hood Gipson
Henry: Ridden by John Wayne
Pardner: Ridden by Buddy Roosevelt
Taco: Ridden by Chito Rafferty
Mesquite: Ridden by Allan Rocky Lane
Sheik: Ridden by Smith Ballew
Comanche: Ridden by Tom Mix
Ponca: Ridden by Tom Mix
Bad Jim: Ridden by Billy the Kid
Mutt: Ridden by ridden by Hoot Gibson
Tonka: Ridden by Sal Mineo
Paint: Ridden by Sal Mineo
Thunderbolt: Ridden by Johnny West
Stardust: Ridden by Gene Barry