Have you ever thought well I know about a lot of horse breeds including Quarter Horses, Draft Horse, Mustangs, Thoroughbreds, Mini Horse, etc…but how many can there possibly be out there across the globe.
Horse Breeds From Around The World What's The Count?
So how many horse breeds exist in the world? Upon our extensive research using many different national resources we have found on average there are around 350 nationally recognized horses and 100 pony breeds.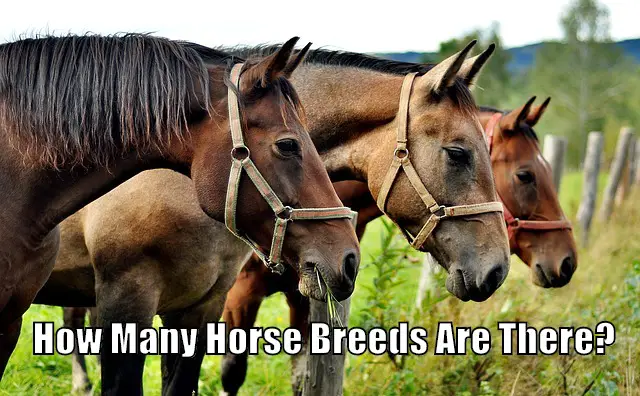 So with that being said we also found around 1,400 different horse breeds that don't seem to be duplicates but aren't recognized by national registries so that is why it is so hard to narrow down. How can this be? Well breeding really isn't highly regulated and locally it is hard to keep records when people cross bloodlines or breeds and new horses are developed on almost a daily basis. Which isn't always bad but can be when it comes to genetics being passed that probably shouldn't be.
Just like with dogs where they are cross bred to attain a certain size there can be side effects and consequences. But overall 450 was the average number of pony and horse breeds we found. At the bottom of this article you can see the entire list and we also dove into some related questions that came to our minds like what is the oldest horse breed?
How are horse breeds categorized? They are basically broken down into 4 main groups that include Light Horses, Heavy Horses, Ponies and Feral Horses.
Light Horses – Horses that weigh around 1,000-1,300 lbs on average. They usually have thinner legs and smaller bones to go with their stature. Examples include: Quarter Horses, Morgans, Saddlebreds, Tennessee Walkers and also Thoroughbreds.
Heavy Horses – These are more of your work horse stature coming in at up 2,000 lbs. Bigger bones, bigger legs not as agile. Examples: Clydesdales and other Drafts, Percherons, Belgian and Shire.
Feral Horses – With the name they are more of a wild or somewhat wild horse. Examples of these would be Mustang and Brumby.
Ponies – They usually come in at 14.2 hands or under (<58 inches tall). So they are smaller than a normal horse. Examples include: American Shetland, Dales, Bosnian, and Dartmoor.
HORSE BREEDS (353)
Abaco Barb
Abtenauer
Abyssinian
Aegidienberger
Akhal-Teke
Albanian horse
Altai horse
Altèr Real
American Albino
American Cream Draft
American Indian Horse
American Paint Horse
American Quarter Horse
American Saddlebred
American Warmblood
Andalusian horse
Andravida horse
Anglo-Arabian
Anglo-Arabo-Sardo
Anglo-Kabarda
Appaloosa
AraAppaloosa
Arabian horse
Ardennes horse
Arenberg-Nordkirchen
Argentine Criollo
Asturcón
Augeron
Asian wild horse
Assateague horse
Australian Brumby
Australian Draught Horse
Australian Stock Horse
Austrian Warmblood
Auvergne horse
Auxois
Azerbaijan horse
Azteca horse
Baise horse
Bale
Balearic horse
Balikun horse
Baluchi horse
Banker horse
Barb horse
Bardigiano
Bashkir Curly
Basque mountain horse
Bavarian Warmblood
Belgian horse
Belgian Warmblood (includes Belgian Half-blood)
Bhutia Horse
Black Forest Horse
Blazer horse
Boerperd
Borana
Bosnian Mountain Horse
Boulonnais horse
Brabant
Brandenburger
Brazilian Sport Horse (Brasileiro de Hipismo)
Breton horse
Brumby
Budyonny horse or Budenny
Burguete horse
Burmese Horse
Byelorussian Harness horse
Calabrese horse
Camargue horse
Camarillo White Horse
Campeiro
Campolina
Canadian horse
Canadian Pacer
Carolina Marsh Tacky
Carthusian horse
Caspian horse
Castilian horse
Castillonnais
Catria horse
Cavallo Romano della Maremma Laziale
Cerbat Mustang
Chickasaw Horse
Chilean horse also known as Chilean Corralero
Choctaw horse
Cleveland Bay
Clydesdale horse
Cob
Colonial Spanish Horse
Colorado Ranger
Coldblood trotter
Comtois horse
Corsican horse
Costa Rican Saddle Horse
Cretan horse
Criollo horse
Croatian Coldblood
Cuban Criollo
Cumberland Island horse
Curly Horse
Czech Warmblood
D-K[edit]
Daliboz
Danish Warmblood
Danube Delta horse
Dole Gudbrandsdal
or Dølahest
Don
Dongola horse
Draft Trotter
Dutch harness horse
Dutch Heavy Draft
Dutch Warmblood
Dzungarian horse
East Bulgarian
East Friesian horse
Estonian Draft
Estonian horse
Falabella
Faroese or Faroe horse
Finnhorse
Fleuve
Fjord horse also called Norwegian Fjord Horse
Florida Cracker Horse
Foutanké or Fouta
Frederiksborg horse
Freiberger
French Trotter
Friesian cross (includes Friesian Sport Horses)
Friesian horse
Friesian Sporthorse (a type of Friesian cross)
Furioso-North Star
Galiceno or Galiceño
Galician Pony (Caballo de pura raza Gallega)
Gelderland horse
Georgian Grande Horse
German Warmblood or ZfDP
Giara Horse
Gidran
Groningen Horse
Gypsy horse
Hackney horse
Haflinger
Hanoverian horse
Heck horse
Heihe horse
Henson horse
Hequ horse
Hirzai
Hispano-Bretón
Hispano-Árabe also known as Hispano or Spanish Anglo-Arab
Holsteiner horse
Horro
Hungarian Warmblood
Icelandic horse
Iomud
Irish Draught
Irish Sport Horse sometimes called Irish Hunter
Italian Heavy Draft
Italian Trotter
Jaca Navarra
Jeju horse
Jutland horse
Kabarda horse
Kafa
Kaimanawa horses
Kalmyk horse
Karabair
Karabakh horse also known as Azer At
Karossier see Ostfriesen and Alt-Oldenburger
Karachai horse
Kathiawari
Kazakh Horse
Kentucky Mountain Saddle Horse
Kiger Mustang
Kinsky horse
Kyrgyz Horse
Kisber Felver
Kiso Horse
Kladruber
Knabstrupper
Konik
Kundudo
Kustanair
L-R[edit]
Latvian horse
Lipizzan or Lipizzaner
Lithuanian Heavy Draught
Lokai
Losino horse
Lusitano
Lyngshest
M'Bayar
M'Par
Malopolski
Mallorquín
Mangalarga
Mangalarga Marchador
Maremmano
Marismeño horse
Marsh Tacky
Marwari horse
Mecklenburger
Međimurje horse
Menorquín
Mérens horse
Messara horse
Mezőhegyesi sport-horse (sportló)
Mezőhegyes felver
Metis Trotter
Miniature horse
Misaki horse
Missouri Fox Trotter
Monchina
Mongolian Horse
Mongolian Wild Horse
Monterufolino
Morab
Morgan horse
Mountain Pleasure Horse
Moyle horse
Muraközi
Murgese
Mustang horse
Namib Desert Horse
Nangchen horse
National Show Horse
Nez Perce Horse
Nivernais horse
Nokota horse
Noma
Nonius horse
Nooitgedachter
Nordlandshest/ Lyngshest
Noriker horse
Norman Cob
Norsk Kaldblodstraver (Norwegian coldblood trotter)
North American Single-Footer horse
North Swedish Horse
Norwegian Fjord
Novokirghiz
Oberlander Horse
Ogaden
Oldenburg horse
Orlov trotter
Ostfriesen and Alt-Oldenburger
Paint
Pampa horse
Paso Fino
Pentro horse
Percheron
Persano horse
Peruvian Paso
Pintabian
Pleven horse
Poitevin horse also called Mulassier
Posavac horse
Pottok
Pryor Mountain Mustang
Przewalski's horse
Pura Raza Española or PRE
Purosangue Orientale
Qatgani
Quarab
Quarter Horse
Racking horse
Retuerta horse
Rhenish German Coldblood also known as Rhineland Heavy Draft
Rhinelander horse
Riwoche horse
Rocky Mountain Horse
Romanian Sporthorse
Rottaler
Russian Don
Russian Heavy Draft
Russian Trotter
S-Z[edit]
Saddlebred
Salerno horse
Samolaco horse
San Fratello horse
Santa Cruz Island horse
Sarcidano horse
Sardinian Anglo-Arab
Schleswig Coldblood
Schwarzwälder Kaltblut
Selale
Sella Italiano
Selle Français
Senner
Shagya Arabian
Shan Horse or Shan Myinn
Shire horse
Siciliano indigeno
Silesian horse
Sorraia
Sokolsky horse
South German Coldblood also known as Süddeutsches Kaltblut
Soviet Heavy Draft
Spanish Barb see Barb horse
Spanish Jennet Horse
Spanish Mustang
Spanish-Norman horse
Spanish Tarpan
Spiti Horse
Spotted Saddle horse
Standardbred horse
Suffolk Punch
Svensk Kallblodstravare (Swedish coldblood trotter)
Swedish Ardennes
Swedish Warmblood
Swiss Warmblood
Taishū horse
Takhi
Tawleed
Tchernomor
Tennessee Walking Horse
Tersk horse
Thoroughbred
Tinker horse
Tiger Horse
Tolfetano
Tori horse
Trait Du Nord
Trakehner
Tsushima
Tuigpaard
Ukrainian Riding Horse
Unmol Horse
Uzunyayla
Ventasso horse (Cavallo Del Ventasso)
Virginia highlander
Vlaamperd
Vladimir Heavy Draft
Vyatka
Waler horse
Waler
Walkaloosa
Warmblood
individual warmblood breed articles
Warlander
Welsh Cob (Section D)
Westphalian horse
Wielkopolski
Württemberger or Württemberg
Xilingol horse
Yakutian horse
Yili horse
Yonaguni horse
Zaniskari
Zweibrücker
Žemaitukas
Zhemaichu
PONY BREEDS (100)
American Shetland
American Walking Pony
Anadolu pony
Ariegeois Pony
Assateague Pony
Asturian pony
Australian Pony
Australian Riding Pony
Bali Pony
Bashkir Pony
Basque Pony
Basuto pony
Batak Pony
Bhutia Pony
Bosnian Pony
British Riding Pony
British Spotted Pony
Burmese Pony
Carpathian Pony
Canadian rustic pony
Caspian pony
Chincoteague Pony
Chinese Guoxia
Coffin Bay Pony
Connemara pony
Czechoslovakian Small Riding Pony
Dales Pony
Danish Sport Pony
Dartmoor pony
Deli pony
Deutsches Reitpony
Dülmen Pony
Eriskay pony
Esperia Pony
Exmoor pony
Falabella
Faroe pony
Fell Pony
Flores pony
French Saddle Pony
Galician Pony
Garrano
Gayoe
German Riding Pony
or Weser-Ems Pony
German Classic Pony
Gotland Pony
Guizhou pony
Guangxi
Gǔo-xìa pony
Hackney pony
Highland Pony
Hokkaido Pony
Hucul Pony
Hunter Pony
Icelandic pony
Indian Country Bred
Java Pony
Kerry bog pony
Landais Pony
Lijiang pony
Lundy Pony
Manipuri Pony
Merens Pony
Miniature horse
Miyako Pony
Narym Pony
New Forest Pony
Newfoundland pony
Noma pony
Northlands Pony
Ob pony also called Priob pony
Peneia Pony
Petiso Argentino
Pindos Pony
Poney Mousseye
Pony of the Americas
Quarter pony
Riding Pony
horses" section
Sable Island Pony
Sandalwood Pony
Sardinian Pony
Shetland pony
Skogsruss
Skyros Pony
Spiti Pony
Sumba and Sumbawa Pony
Tibetan Pony
Timor Pony
Tokara Pony
Virginia highlander
Vyatka horse
Welara
Welsh pony
Western Sudan pony
Yakut Pony
Yonaguni
Zaniskari
Žemaitukas
Zhumd