There are so many different types of horse competitions across the world so it can be hard to count. There is a lot more televised then you would think too you just have to search the other sports networks. Although in our house we are more of western style horse riders it doesn't mean we don't respect and honor other types of equestrian sports competition. After all each one takes a lot of hard work and is more like an art. It is amazing watching animals and riders act as one.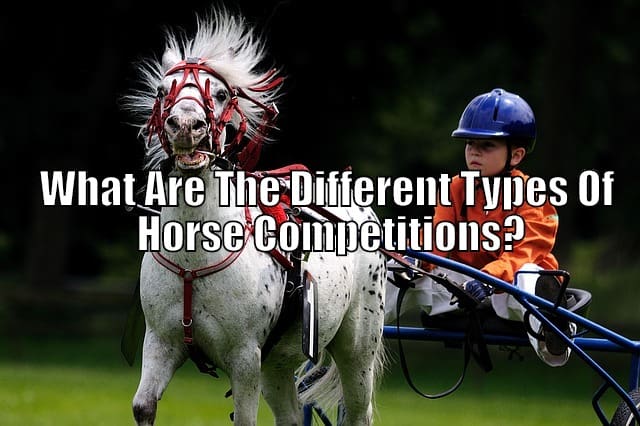 So what types of horse competitions are there?
There are many and this isn't all of them:
Driving
Racing
Vaulting
Endurance 
Trail Riding
Dressage
Eventing
Reining
Rodeo Events
Trick Riding
Polo
Equestrian Competitions:
Rodeo Events
Women's Barrel Racing – is one of the most exciting and popular events that is all about speed and turning on a dime. Rider and horse cross a starting line and go as fast as they can around a cloverleaf pattern marked out by barrels and run back to the finish line. It is a timed event.
Bareback Riding – this is one of the most physically demanding of all the events. A cowboy rider tries to ride a bucking horse by hanging onto what is called a rigging strap for 8 seconds. There are many technicalities to the sport where points are based on the horses ability to buck and 50 for the cowboys riding style.
Steer Wrestling – this is a fun one to watch since it requires a lot of strength and it happens very quickly. The steer wrestler begins on his horse behind what is called a barrier. The steer gets a head start when released then the steer wrestler takes off on his horse to get an angle to drop down on the steer and basically wrestle him to the ground. Time starts when the steer takes off and stops when the steer is on its side.
Saddle Bronc – Similar to bareback but can rider can be disqualified in more ways like by losing his foot in the stirrup. The horse is saddled here of course
Tie Down Roping – this is a ranch style classic. Similar to steer wrestling with the initial setup with a barrier and calf in this case getting a head start. They rope the horse and get off to hand tie three legs together. Also timed and calf must remain tied for 6 seconds.
Team Roping – there are two ropers here. One ropes the head and the other ropes the heels (back to feet) of the steer. Same kind of start as steer wrestling with a barrier. Riders start on opposing sides of the steer. Header starts first then the heeler time stops after the hind feet come together.
Women's Breakaway Roping – not as popular as barrel racing but these women tear it up. Similar to tie down roping setup but calf is not thrown to the ground and hand tied. Time stops when the rope breaks free from cowgirl's saddle horn.
Racing
There are so many different kinds of racing across many breeds. Horses and even mules are raced.
Harness racing – is where the cart is pulling the rider
Chuck Wagon Racing – involves a team of horses pulling a chuck wagon around a track
Thoroughbred Racing – is where thoroughbreds race around a track with a jockey rider that is 1+ miles long like the Kentucky Derby
Showmanship
There is a horse and handler that is judged based on a pattern that is there to show the skills of the handler getting the horse to move in certain ways. The handler walks the horse around by reins or lead rope to get them to do these certain tasks.
Trail Riding
Competitive trail riding is a fun event for horse and rider where they are challenged to race against time while coming into contact with certain obstacles. Some examples are crossing bridges, backing up and closing gates things of that nature.
Dressage
English based that again shows the horse and riders communication and disciplines. There are set patterns and the horse performs specific tasks and is finish with a freestyle set to music. A lot of fun. There is also Western Dressage it is just in western attire and specific tasks suitable for the western style riding.
Cross Country Endurance
This is like the move Hidalgo. These horse go upwards of 100 miles and have a lot of checkpoints with vet checks. It is a times event and horses are looked after closely. If they are deemed not fit they are disqualified.
Jumping
Another amazing event to watch. It is based on time mainly and completing the jumps without knocking down the rails.
Reining
Western style even where horse and rider complete certain patterns, stop quickly, turning among other tasks. Also a musical freestyle this is not the same as reining.
Western Pleasure
Showcases the horses abilities to complete tasks as a riding companion
Polo
This is a team sport that many have seen maybe in movies like Pretty Woman. Consist of two teams that are mounted on horses with a long mallet hitting a ball into goals.
Various Mounted Games
Riders and horses compete while completing tasks like shooting bow and arrow through a ring. Or throwing a spear through a ring or balancing something.
Related Questions
What Is A Horse Rider Called?
There are a number of names based on different disciplines. Here is a short list:
Cowgirl
Cowboy
Jockey
Rider
Cavalry
Wrangler
How Many Equestrian Disciplines Are There?
There are many, but there is a short list to help you out:
Dressage
Cross Country
Show Jumping
Western Pleasure
Reining
Cutting and Penning
Conclusion
As you can see if you love horses you can find an event that relates to you and your horse that will be througoughly enjoyed. If any of these interest you do some more research, watch a live event on tv then if possible go see a live event. We love going to rodeos ourselves and travel out west to see events like Cheyenne Frontier Days in Wyoming, USA.