Have you just purchased a horse, maybe had one given to you or had one for awhile that you want to find out if he/she is registered? Then you have come to the right place as we have gone through the same thing multiple times for different reasons.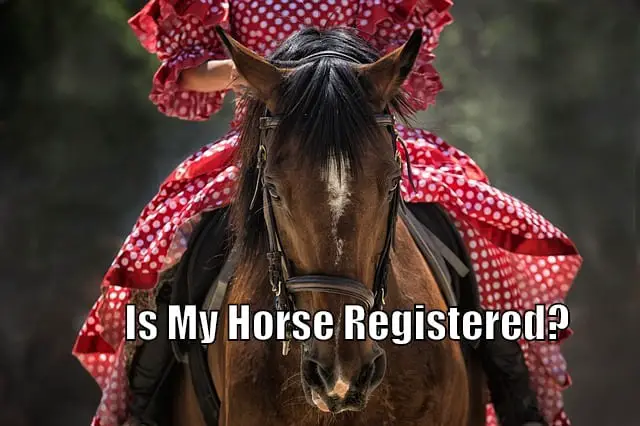 Is My Horse Registered?
So how am I to find out if my horse is registered? It will depend on the specific situation but usually the best place to start is from the beginning with the original owner if possible. We have found many times that the horse has either been sold/given away without the original papers. Or even if the papers have gone with the horse they are never signed/transferred over completely so you would have to go back to the original owner as it is. If this is the case and you can track down the owner then a lot of the time your problem can be easily solved because they may have the proper paperwork already or someone they know does.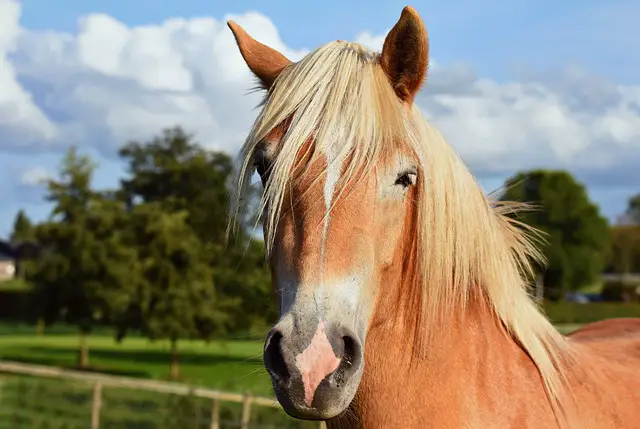 Now that you have that info I would start by going to All Breed Database at www.allbreedpedigree.com. It is free to search back 5 generations so simply
Enter your horse's name in and do a search using the Standard option.
If there are multiple names choose the one with the correct Sire and Dam
There you will find info that includes: year horse was born, color, if gelding/colt etc
This info dates back to the 1800's so if the horse is not in the database it is likely not registered but that is not certain as the upkeep with this database is not always the quickest.
Now you may be questioning whether this is just for Thoroughbreds or a certain breed and that is not the case I thought that when I first visited. For Quarter Horse you can go directly here: https://www.allbreedpedigree.com/american-quarter-horse-free-pedigree-search
All Pedigree covers Arabian, Paint, Quarter Horse, and Thoroughbred.
*If you can't find on the All Pedigree website go to your horse breeds registry if you just google "Your Horse Breed" registry it should come right up.
Here is a list of some of the major ones we haven't used them all but we did some quick research:
Morgan: https://www.morganhorse.com/
Appaloosa: https://www.appaloosa.com/
Appendix Quarter Horse www.americanappendix.com
RaceHorses: www.registry.jockeyclub.com/Registry.cfm
For others just google "horse breed" + registry and it should come right up.
*One of our readers sent us a list of Registries we added down to the END OF THE ARTICLE. Thank you for doing that you know who you are.
I have a racehorse but don't know where to start? Most all racehorses have a tattoo on the inside of their upper lip. We had a track horse which was also an Appendix Quarter Horse that had a tattoo. The identification you can lookup on the Jockey Club website and request information as well. Some basics to the tattoo are if it starts with a letter it is a Thoroughbred and it also explains the year of the horses birth (see below). If it is starts with an asterisk (like ours) it is an Appendix Horse.
Make sure you don't miss out on the Best Gifts for any Cowgirl shipped to your door in as little as 2 days! Just Click Here to see the most popular!
Best Cowgirl Gifts
Top Cowgirl Gifts On The Market
Check Price

Top

Top

Top

Top

Horses Keep Me Stable Stemless Wine Glass
Check Price

Top

Top

Top

Top

ARIAT Women's Delilah Round Toe Western Boot Brown
Check Price

Top

Top

Top

Top

Horses Keep Me Stable Wine Tumbler
Check Price

Top

Top

Top

Top

American Rodeo Barrel Racing Swappable Grip for Phone
Check Price

Top

Top

Top

Top

Barn Hair Don't Care Baseball Cap
Check Price

Top

Top

Top

Top

Mid Rise Boot Cut Ultimate Cowgirl Riding Jean
Check Price

Top

Top

Top

Top

Heated Riding Vest
Check Price
Letter with Corresponding Birth Year:
(information originally from Jockey Club)
A: 1997
B: 1998
C: 1999
D: 2000
E: 2001
F: 2002
G: 2003
H: 2004
I: 2005
J: 2006
K: 2007
L: 2008
M: 2009
N: 1984
O: 1985
P: 1986
Q: 1987
R: 1988
S: 1989
T: 1990
U: 1991
V: 1992
W: 1993
X: 1994
Y: 1995
Z: 1996
My Horse Has A Brand?
Research the brand online or you can maybe ask around with somebody knowledgeable on brands like a horse seller. We had a horse that was bought from George Strait so it was a very distinguishable brand, but some others aren't. It may be hard to track down the ranch for the symbol but worth a shot you never know. From that point you may be able to track down the proper paperwork.
Also going off of this the name of the horse may represent the ranch or location where it came from.
Can you do a DNA Test On A Horse?
Yes you can have a local vet do a DNA test or there are there are mail in ones as well that would probably be cheaper so up to you I would personally have the vet do it since I am not comfortable drawing blood. Giving shots is one thing taking a vial of blood is a whole other level. We may look into this further because there may be kits you can get that make this easier to do on your own.
Hopefully this information helps you and we will update or post another article on other items we find in the future. The information is more accessible then it used to be with the internet but it still can be hit or miss. If you guys have any other resources please let us know.
List Of Registries:
Akhal-Teke
Akhal-Teke Registry of America
www.akhal-teke.org
American Indian Horse
American Indian Horse Registry
www.indianhorse.com
American Warmblood
American Warmblood Registry
www.americanwarmblood.com
American Warmblood Society
www.americanwarmblood.org
Andalusian
International Andalusian Lusitano Horse Association
www.ialha.org
Appaloosa
Appaloosa Horse Club
www.appaloosa.com
International Colored Appaloosa Association
www.icaainc.com
Appaloosa Sport Horse Association
www.apsha.org
Arabian
Arabian Horse Association
www.arabianhorses.org
North American Shagya-Arabian Society
www.shagya.net
The Pyramid Society
www.pyramidsociety.org
Azteca
American Azteca Horse International Association
www.americanazteca.com
Belgian Warmblood
Belgian Warmblood Breeding Association/North American District
www.belgianwarmblood.com
Buckskin
American Buckskin Registry Association
www.americanbuckskin.org
International Buckskin Horse Association
www.ibha.net
Canadian Warmblood
Canadian Warmblood Horse Breeders Association
www.canadianwarmbloods.com
Caspian
Caspian Horse Society of the Americas
www.caspian.org
Champagne Horse
International Champagne Horse Registry
www.ichregistry.com
Cleveland Bay
Cleveland Bay Horse Society of North America
www.clevelandbay.org
Clydesdale
CIydesdale Breeders of the USA
www.clydesusa.com
Colorado Ranger
Colorado Ranger Horse Association
www.coloradoranger.com
Connemara Pony
American Connemara Pony Society
www.acps.org
Cream Draft
American Cream Draft Horse Association
www.acdha.org
Curly Horse
American Bashkir Curly Registry
www.abcregistry.org
International Curly Horse Organization/North American Curly Horse Registry
www.curlyhorses.org
Curly Sporthorse International
www.curlysporthorse.org
Dales
Dales Pony Association of North America
www.dalesponies.com
Dartmoor
The Dartmoor Pony Registry of America
www.dartmoorpony.com
Donkeys and Mules
American Donkey and Mule Society
www.lovelongears.com
American Mammoth Jackstock Registry
www.amjr.us
American Council of Spotted Asses
www.spottedass.com
Dutch Warmblood
Dutch Warmblood Studbook in North America
www.nawpn.org
Fell Pony
Fell Pony Society and Conservancy of the Americas
www.fellpony.org
Fell Pony Society of North America
www.fpsna.org
Fjord
Norwegian Fjord Horse Registry
www.nfhr.com
Florida Cracker
Florida Cracker Horse Association
www.floridacrackerhorses.com
Friesian
Friesian Horse Association of North America
www.fhana.com
International Friesian Show Horse Association
www.friesianshowhorse.com
Georgian Grande
International Georgian Grande Horse Registry
www.georgiangrande.com
Gypsy Horse
Gypsy Cob & Drum Horse Association
www.gcdha.com
Gypsy Horse Registry of America
www.gypsyhorseregistryofamerica.org
Gypsy Vanner Horse Society
vanners.org
Hackney
American Hackney Horse Society
www.hackneysociety.com
Haflinger
American Haflinger Registry
www.haflingerhorse.com
Hanoverian
American Hanoverian Society
www.hanoverian.org
Holsteiner
American Holsteiner Horse Association
www.holsteiner.com
Horse of the Americas
Horse of the Americas Registry
www.horseoftheamericas.com
Hungarian Horse
Hungarian Horse Association of America
www.hungarianhorses.org
Icelandic Horse
United States Icelandic Horse Congress
www.icelandics.org
Irish Draught
Irish Draught Horse Society, N.A.
www.irishdraught.com
Lipizzan
Lipizzan Association of North America
www.lipizzan.org
United States Lipizzan Registry
www.uslr.org
Lusitano
International Andalusian Lusitano Horse Association
www.ialha.org
Mangalarga Marchador
Mangalarga Marchador
www.usmarchador.com/
American Miniature Horse Association
www.amha.org
American Miniature Horse Registry/American Shetland Pony Club
www.shetlandminiature.com
International Miniature Trotting and Pacing Association
www.imtpa.com
Missouri Fox Trotter
Missouri Fox Trotting Horse Breed Association
www.mfthba.com
Morab
International Morab Breeders Association
www.morab.com
Purebred Morab Horse Association/Purebred Morab Horse Registry
www.puremorab.com
Morgan
American Morgan Horse Association
www.morganhorse.com
Morgan Sport Horse Breeders Ltd.
www.sportmorgan.com
Lippitt Morgan Breeders' Association
www.lippittmorganbreedersassociation.com
Morgan Single-Footing Horse Association
www.gaitedmorgans.org/newsite
Mustang
BLM National Wild Horse and Burro Program
www.blm.gov
Kiger Mesteño Association
www.kigermustangs.org
Steens Mountain Kiger Registry
www.kigers.com
American Mustang and Burro Association Inc.
www.ambainc.net
Spanish Mustang Registry Inc.
www.spanishmustang.org
National Show Horse
National Show Horse Registry
www.nshregistry.org
New Forest Pony
New Forest Pony Association & Registry
www.newforestpony.net
Oldenburg
Oldenburg Horse Breeders Society
www.oldenburghorse.com
International Sporthorse Registry and Oldenburg Registry, N.A.
www.isroldenburg.org
Paint
American Paint Horse Association
www.apha.com
Palomino
Palomino Horse Association
www.palominohorseassoc.com
Palomino Horse Breeders of America
www.palominohba.com
Part Bred
American Part-Blooded Horse Registry
www.apbhorseregistry.com
Paso Fino
Paso Fino Horse Association
www.pfha.org
Percheron
Percheron Horse Association of America
www.percheronhorse.org
Peruvian Horse
North American Peruvian Horse Association
www.napha.net
Pinto
Pinto Horse Association of America Inc.
www.pinto.org
Pony of the Americas
Pony of the Americas Club
www.poac.org
Przewalski Horse
Foundation for the Preservation and Protection of the Przewalski Horse
www.treemail.nl/takh
Quarter Horse
American Quarter Horse Association
www.aqha.com
Foundation Quarter Horse Registry
www.fqhrregistry.com
National Foundation Quarter Horse Association
www.nfqha.com
National Quarter Horse Registry
www.nqhr.com
American Appendix Horse Association
www.americanappendix.com
American Quarter Pony Association
www.aqpa.com
Racking Horse
Racking Horse Breeders' Association of America
www.rackinghorse.com
Rocky Mountain Horse
Mountain Pleasure Horse Association
www.mtn-pleasure-horse.org
Rocky Mountain Horse Association
www.rmhorse.com
Saddlebred
American Saddlebred Horse Association
www.saddlebred.com
Selle Français
les Haras Nationaux
www.haras-nationaux.fr/portail/
Shire
American Shire Horse Association
www.shirehorse.org
Spanish Barb
Spanish Barb Breeders Association
www.spanishbarb.com
Spanish Norman
Spanish-Norman Horse Registry
www.spanish-norman.com
Sport Horse
International Sport Horses of Color
www.shoc.org
Performance Horse Registry
www.phr.com
Spotted Saddle Horse
National Spotted Saddle Horse Association
www.nssha.com
Spotted Saddle Horse Breeders and Exhibitors Association
www.sshbea.org
Standardbred
Standardbred Pleasure Horse Organization
www.standardbredhorse.com
United States Trotting Association
www.ustrotting.com
Suffolk
American Suffolk Horse Association
www.suffolkpunch.com
Swedish Warmblood
Swedish Warmblood Association of North America
www.swedishwarmblood.org
Tennessee Walking Horse
Tennessee Walking Horse Breeders' and Exhibitors' Association
www.twhbea.com
Friends of Sound Horses
www.friendsofsoundhorses.org
Walking Horse Owners' Association
www.walkinghorseowners.com
Walkaloosa Horse Association
www.walkaloosaregistry.com
Thoroughbred
The Jockey Club
www.jockeyclub.com
Tiger
Tiger Horse Association
www.tigerhorses.org
Trakehner
American Trakehner Association
www.americantrakehner.com
Welara
American Welara Pony Society
www.welararegistry.com
Welsh Pony and Cob
Welsh Pony and Cob Society
www.welshpony.org