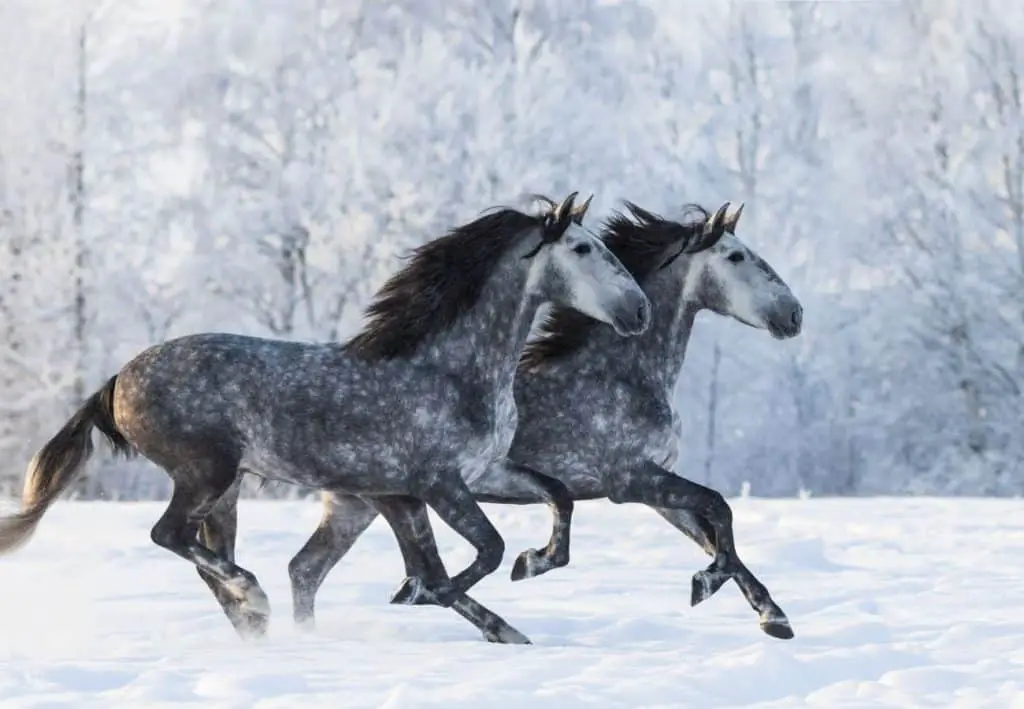 We have had a couple beautiful grey horses over the years and the most memorable one was a horse we bought from George Strait named Tex. We now have a boarder named Kit Kat that is a beautiful Dapple Grey Mare horse. It was crazy to watch Tex turn from dark grey to completely white as he aged over the years looking like a completely different horse. They really are amazing and unique creatures. I am excited to have the chance to watch our boarder Kit Kat grow over the years as well. Naming your Grey horse is an amazing opportunity to pick something that clicks for the both of you and throughout your long lived lives.
What Does A Grey Horse Mean Or Symbolize?
Gray or Grey horses have been truly fascinating over the years bringing about Grey only races among other beliefs. A Grey Horse has meant stability, patience and wisdom over the years. If you dream of a gray horse it is said that you are going to have to own up to your actions. 
Gray hair is a sign of the horse aging and also that the pigments never reached the hair for some odd reason. All this beauty doesn't come without some issues like the fact that 8 out 10 grey horses by the time the reach 15 will develop benign melanomas. Only about 25 percent of the 80% will actually develop further cancer conditions.
Naming your Grey can be hard to do, but we have gone through and came up with many names for all kinds of Grey reasons. Hopefully this list helps you pick it out.
Make sure you don't miss out on the Best Gifts for any Cowgirl shipped to your door in as little as 2 days! Just Click Here to see the most popular!
Best Cowgirl Gifts
Top Cowgirl Gifts On The Market
Check Price

Top

Top

Top

Top

Horses Keep Me Stable Stemless Wine Glass
Check Price

Top

Top

Top

Top

ARIAT Women's Delilah Round Toe Western Boot Brown
Check Price

Top

Top

Top

Top

Horses Keep Me Stable Wine Tumbler
Check Price

Top

Top

Top

Top

American Rodeo Barrel Racing Swappable Grip for Phone
Check Price

Top

Top

Top

Top

Barn Hair Don't Care Baseball Cap
Check Price

Top

Top

Top

Top

Mid Rise Boot Cut Ultimate Cowgirl Riding Jean
Check Price

Top

Top

Top

Top

Heated Riding Vest
Check Price
Barn Names For Grey Horses
Sterling
Zander
Lucious
Oliver
Smoke
Smokey
Zeus
Sarge
Major
Chief
Captain
Titan
Remington Steel
Bond
James Bond
Steele
Ringo
Sparks
Boulder
Fallon
Lovelock
Jackpot
Platinum
Mercury
Gunsmoke
Buckshot
Caesar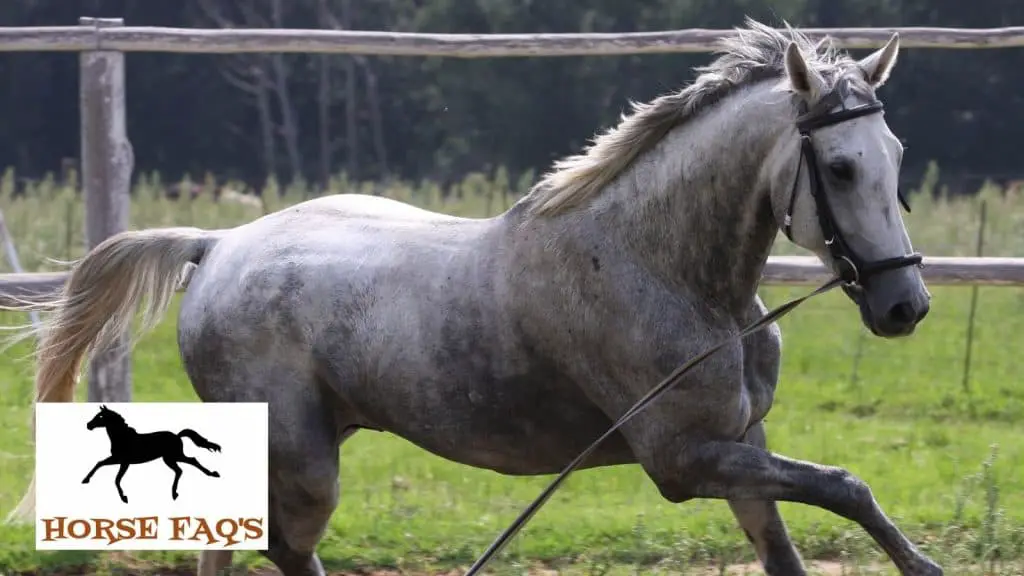 Cool Names For Grey Horses
Mercury
Friday
Nimbus
Skyfall
Cloud Walker
RainMaker
Dismal Grey Weather
Misty
Cute Grey Horse Names
Cobweb
Crystal
Belle
Partly Cloudy
Stone Rose
Moloko (Spanish for milk)
Quicksilver
Breeze
Blizzard
Cute Names For Dapple Grey Horses
Snowstorm
Drift
Icicle
Sooty
Sky
Kit Kat
Tex
Grey And White Horse Names
Badger
Graphite
Knight
Ash
Pebbles
Silver
Smokey
Iron
Grey Arabian Horse Names
Night
Whisper
Warrior
Queenie
Sunrise
Trix
Sprit
Oscar
Destiny
Xander
Grey Gelding Horse Names
Grey Horse names Female
Queenie
Sunrise
Tara
Destiny
Grey Flower
Starling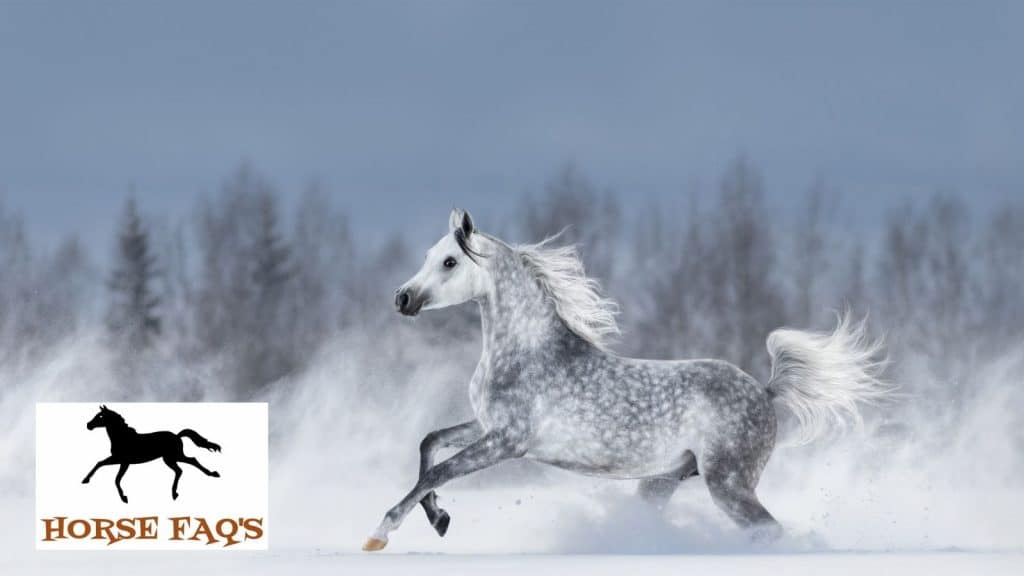 Best Names For Grey Horses
Foggy Notion
Greystoke
Blue wave
Graphite
Stone
Ash
Lamboo
Mitti
Apache
Amos
Steely
Dan Knight
Storm
Sandy Venom
Iron Shadow
Smokehouse
GrayHour
Dubliner
Centerville
Pegasus
QuickSilver
Smoke signal
White Tornado
Silver Bullet
Smog Ring
Marshmellow
Moonwalk
Mercury
Rafiki Aggie Alpha
Snowman Bridle
Grey Scale
Thunderclap
Gun Smoke
Jupiter Sterling Ghost
Eclipse Badger Austen
Black And Grey Horse Names
These will more then likely be considered Dark Dapple Grey Horses so no really black and grey. Here is a nice list of names for them:
Arctic Star
Dark Star
Dark Angel
Pixie Dust
Cleo
Mystique
Misty
Aurora
Arista
Jezabelle
Jezzy
Skye
Daisy
Dutchess
Annie
Sierra
Alaska
Atlanta
Nevada
Dahlia
Cloud
Patience
Sugar
Ghost
Callista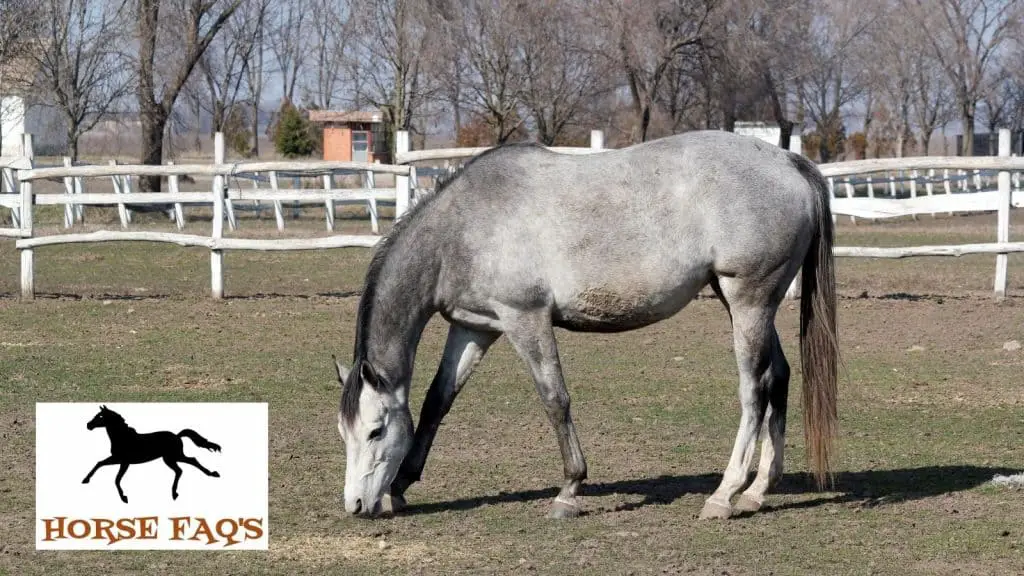 Light Grey Horse Names
Here are some great names for lighter gray colored horses:
Tempest
Juno
Sprite
Dreamer
Alaska
Greystroke
Smoked Duck
OvercastSteely Dan
Platinum Plus
Up in Smoke
Smokehouse
Partly Cloudy
Shadow
Mouse Grey Horse Names
Mouse Greys are also called blue duns or gray duns. Here are some great names for them:
Castle
Snowdrop
GreyGirl
GreyBoy
Cobweb
Bounty
Shadow
Shadow Dance
Moon Shadow
Bluey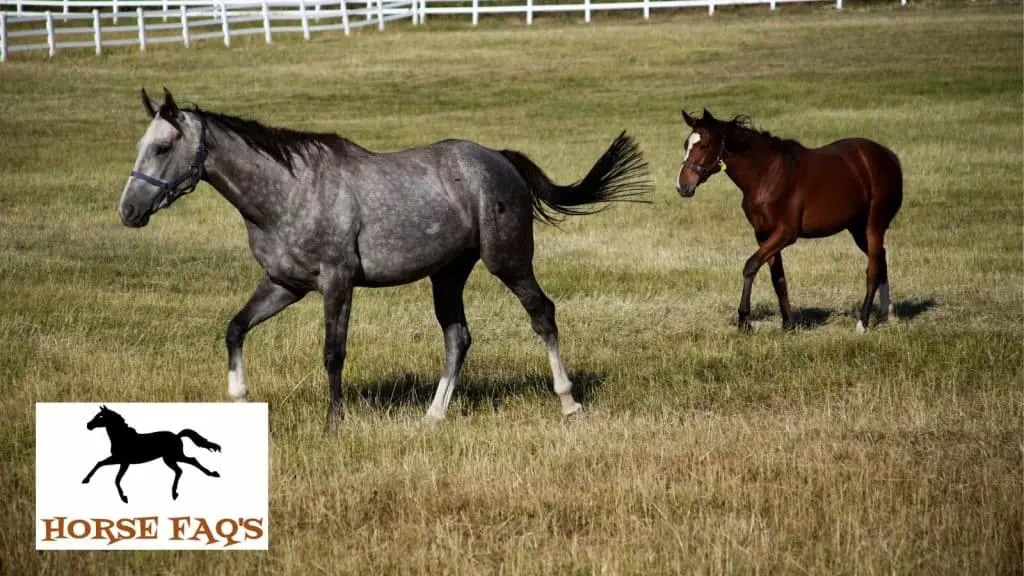 Dapple Grey Horse Names
Dapple Greys are beautiful and one of our favorite horses. Here are some names for yours:
Remarkable Rocket
Model Millionaire
Canterville Ghost
Roses and Rue
Ideal Husband
Cobblestone Streets
Cloudburst
Stormy Outlook
Set In Stone
Moonstone Exclusive
Greyscale
First Frost
Snowmane
Liath
Mudlark
Grey Pony Names
Ponies are so cut and adorable along with the greys. We have a white pony ourselves. Here are some names for your Gray pony:
Abu
Lil Calypso
Charisma
Mirage
Moonfall
Possum
Zohan
Magic (Name of our horse we always mess around and call him Magic Mike lol)
Mist
Storm
Thunder
Hurricane
Junior
Breeze
Dapple Grey Mare Names
Here are some names for your female Dapple Grey:
Flickity Split
Lady Grey
Shades Of Winter
Evening Shadows
Felicity Snow
Lady Snow
Pale Shadow
Show Names For Grey Horses
Here are some great Shown names for Grey horses you can check out the rest of our Horse Show Names here
Foggy Notion
Grey Stroke
Smoked Duck
Overcast
Up In Smoke
Steely Dan
Platinum Plus
Partly Cloudy
Smokehouse
OutGreyGeous
Cobblestone Streets
Cloudburst
Stormy Outlook
Set In Stone
Moonstone Exclusive
Greyscale
First Frost
Grey-tness Within
Snowy River
Grey's Anatomy
The Grey Lady
Get Gray
Silver Screen
Backlit
Foggy Bottom
Grey Goose
Ashes Of Roses
Stormy Drive
Jack Frost
Chalkboard
The Ice Man
A Touch Of Grey
The Silver Lining
Ghost Town
Iron Clad
Bacardi Silver
Silver Horse Names
Snowstorm
Powder
Grey
Moonbeam
Razzle Dazzle
Crystal Ball
Ice Skater
Ice Dancer
Pebbles
Eclipse
Starlight
Darkstar
Death Star
Lunar Eclipse
Silver Dollar
Famous Grey Horse Names
Desert Orchid – Desert Orchid also known as Dessie was an English racehorse. He was dominating the National Hunt racing. He was very aggressive by getting to the front and holding down the fort. Officially he was rated the 5th best Hunt Horse of all time by TimeForm
Greyhound – He was a grey standardbred gelding was an amazing trotting horse. His nickname was the "Great Grey Ghost. Has gone down as the greatest trotting horse in the history of the sport.
Nicolaus Silver – Nicolaus Silver won the second Grand National race back in 1961.
Shadowfax – this was Gandalf's great white horse off of Lord Of The Rings. He was a descendant of Felaróf, of the race of long-lived Mearas, the greatest horses of Middle-earth.
Traveler – Traveler was famous for being ridden by the Robert E. Lee during the American Civil War. This grey was an American saddlebred. He was known for his strength, speed and courage during battle never turning back or hesitating. Traveler actually outlived Robert E. Lee by only a few months due to contracting tetanus.
Rocinante – Rocinante is from the novel Don Quixote by Miguel De Cervantes. This grey was an amazing workhorse in the novel.
Babieca – Babieca was the famous grey warhorse of Cid Campeador. Who was a hero in Spain and both were inseparable and were actually buried together as well after both their passings.
Palomo – Palomo was the famous Simon Bolivar's horse. Was a beautiful Grey that was very tall and tail almost reached the ground. Simon received this horse as a gift from an elderly woman just before the big Battle of Boyaca in 1819.
Flea-Bitten Grey Horse Names
Flea-Bitten Grey horses are similar to Dapples with pigmented speckles also called freckles. They will still usually become pure white eventually. Here are some names for them:
Casper
Ghost
Phantom
Illusion
Appartition
Silver
Solo
Alfalfa
GreyGirl
Cobweb
Sprinkles
Cloudy
Grey Horse Names Gelding
Bounty
Death Star
Hans Solo
Shadow
Ghost
Greyling
Smokey
Mellow
Silver Lining
Show Names For Grey Mares
Moonstone
First Frost
The Grey Lady
Grey's Anatomy
Grey Goose
A Touch Of Grey
Ashes Of Roses
Get Gray
Backlit
Snowy River
What To Name A Gray Horse?
So there you have it hope you have enjoyed the article and have chosen the name that suits you. As we come up with or come across more names we will throw them on here and update the Table Of Contents. It is tough and asking yourself what should I name my silver horse over and over won't help. Get on Facebook, Reddit or a Horse forum and get some opinions there was you get your name down to a 5-10 different ones.