Horse show names can be tough to choose as they are what your horse is really going to be known when off the farm. Depending on what competitions you are going to be performing with your horse they could get called their show name all day. This is what makes it so much tougher then when you are simply coming up with that short, easy to remember, easy to spell Barn Name.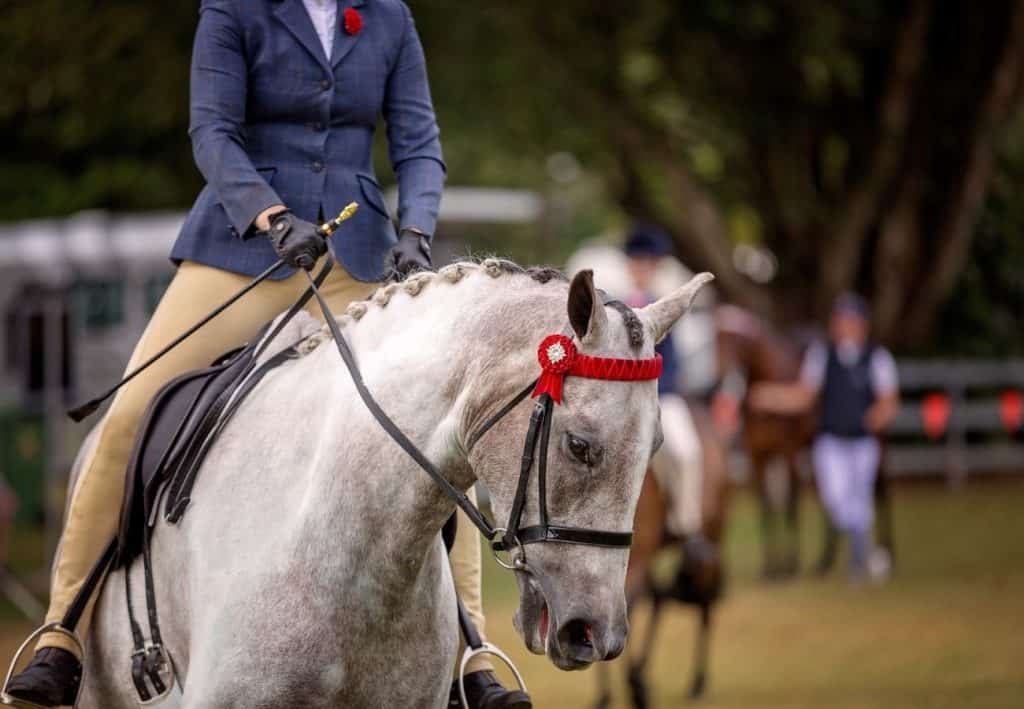 How Do You Come Up With A Horse Show Name?
You can come up with a horse show name by simply using the ancestry of the horse. You will want to look up the sire (male horse) and dam (female horse). You can take the names so you can combine them in a fascinating way. There are also horse name generator you can plug these names into and get some ideas for inspiration. 
An example of this could be if the dam was named Moonlight Lady and the sire was names something like Starlight Moon. You could then take the names and combine something like Starlight Lady for a mare or Moon Landing for a stallion.
Here is a simple horse name generator that comes up with 10 random names you can also combine with the dam and sire names. Horse Name Generator
Most people have a hard time coming up with a name because it means so much to them. One way you can get to making a decision easier by going to a horse forum, facebook group, or horse sub reddit to ask for feedback or a poll on horse names you have come up. This will give confirmation to your decision.
You can also take a horses colors and incorporate them into another horses name. Or you can even use fictional characters a lot of farms use a theme set of names so they are all related. Lets say they use Greek terminology they will go through the Greek gods like Zeus, Apollo, Hera, etc.
Below is a list of some of the top horse names from A to Z. You can use any of these names or a combination of them. It is easiest to combine names that have the same first letter like Abby Abrazo or Adios Ace. You can go on and on combining these names like Nifty Ninja or Charming Cherokee. Try it out and see what you come up with. Further below we go through names for specific horses and also get feedback from other horses.
Make sure you don't miss out on the Best Gifts for any Cowgirl shipped to your door in as little as 2 days! Just Click Here to see the most popular!
Horse Show Names A-Z
A
Abby
Abracadabra
Abrazo
Acapella
Acclaimed
Ace
Ace of spades
Adagio
Adella
Adios
Admiral
Africa
African
Aiko
Akela
Alamo
Alaska
Albert
Alchemist
Alfie
Allegria
Allegro
Allure
Almond
Alto
Amadeus
Amado
Amaretto
Amazing Grace
Amazon
Ambassador
Amber
American
Amethyst
Amigo
Amour
Amulet
Andorra
Andrina
Angel
Angelina
Angelo
Apache
Aphrodite
Apollo
Applause
Apple
April
Aqua
Arabesque
Archie
Archimedes
Aria
Arion
Arizona
Armand
Arod
Artax
Artist
Ash
Asian
Assault
Asteroid
Asti
Athena
Atlanta
Atlantic
Black
Atreyu
Aurora
Austin
Automn
Avalanche
B
Babe
Babieca
Baby doll
Badger
Bagel
Bagheera
Bahamas
Balius
Ballerina
Baloo
Bambi
Bambino
Bamboo
Bandido
Bandit
Banjo
Barney
Baron
Baroness
Barry
Bashful
Basil
Batman
Baxter
Beach
Bear
Beau
Beautiful
Beauty
Beaver
Bella
Belle
Bellino
Ben
Benji
Bentley
Berlin
Berlioz
Bess
Betty
Big brown
Biggles
Bijou
Bikini
Bilbo
Bill
Billie
Billy
Bingo
Bird
Biscuit
Bisou
Bitsy
Black
Black beauty
Black cloud
Black diamond
Black Jack
Black magic
Black mamba
Black pearl
Black winter
Blackberry
Blackie
Blake
Blanca
Bliss
Blizzard
Blondie
Bloom
Blue
Blue Boy
Blue Fairy
Blue moon
Bluebell
Blueskin
Bluey
Blustery
Bob
Bobbie
Bojangles
Bolero
Bonjour
Bonnie
Bonny
Boris
Boston
Boxer
Boy
Bracken
Bramble
Brandy
Brave
Braveheart
Bravo
Brazil
Breeze
Brego
Bronze
Brown
Brown beauty
Brown sugar
Brownie
Bruce
Bruma
Bubble
Bucephalus
Buck
Buddy
Bugsy
Bullet
Bullseye
Bumble
Bunny
Burmese
Buster
Butter
Buttercup
Butterfly
Buttermilk
Buttons
Buzz
C
Caballo
Cactus
Cadence
Caesar
Calisson
Calliope
Camellia
Canada
Candy
Canela
Capella
Capitaine
Cappuccino
Captain
Caramel
Caribbean
Carmen
Cashmere
Casino
Casper
Caviar
Cedar
Celebrity
Celestial
Celtic
Champagne
Champion
Chance
Chancellor
Chantilly
Charlie
Charm
Charmed
Charming
Cherokee
Cherry
Chess
Chestnut
Chetak
Chianti
Chico
Chief
China
Chips
Chocolate
Chocolate chip
Chub
Chucky
Cilantro
Cincinnati
Cinderella
Cindy
Cinnamon
Cisco
Classic
Clearwater
Cleo
Cleopatra
Clever
Cloud
Clover
Clyde
Cobra
Coco
Coconut
Cold
Colonel
Colorado
Columbo
Comanche
Comet
Comino
Commodore
Concerto
Concorde
Condor
Confetti
Connor
Conquest
Cookie
Copenhagen
Corn
Corporal
Cotillon
Cotton
Cougar
Courageous
Cover girl
Cowboy
Coyote
Crazy
Cream
Crescendo
Crunchie
Crystal
Cupcake
Cyclone
Cymbal
D
Dahlia
Daisy
Dakota
Dallas
Dan
Dancer
Dandy
Dark
Dark beauty
Dark knight
Dark sunshine
Dawson
Deep impact
Delicious
Delilah
Delta
Denver
Deputy
Desire
Destiny
Dexter
Diablo
Diamond Diego
Digger
Diorite
Director
Disco
Diva
Divine
Dixie
Dodger
Dolly
Dominica
Domino
Don Juan
Donald
Donut
Dora
Douglas
Dragon
Dragonfly
Drakkar
Dream
Dreamer
Drummer
Dubai
Dublin
Duchess
Duet
Duke
Dulcinea
Duncan
Dynamite
E
Eagle
Echo
Eclipse
Edelweiss
Edgar
Edna
Einstein
Eldorado
Elegance
Ella
Ellie
Elvis
Embrace
Emmett
Empire
Empress
Enigma
Epona
Equinox
Eros
Esmeralda
Esperanza
Esprit
Euphoria
Evita
Excalibur
Expresso
F
Fabio
Faithful
Falcon
Fantasia
Fantasy
Faster
Fauna
Felicity
Felix
Fergie
Fern
Festin
Finley
Fiona
Fire
Firefly
Fizz
Fjord
Flame
Flamenco
Flash
Flashdance
Fleur de sel
Flicka
Flint
Flora
Florence
Flower
Fluffy
Fly away
Fonzie
Footloose
Force
Forest
Forever
Fortune
Fox
Fox trot
Foxy
Freddy
Freedom
Freesia
French
Frenchie
Friday
Frodo
Frou frou
Fudge
Fuego
Fuerte
Fury
H
Hades
Hamilton
Hamlet
Happy
Harley
Harmony
Harry
Harvey
Haughty
Hawk
Heart
Heather
Heaven
Hector
Heidi
Hengroen
Henry
Hera
Hercules
Herman
Hermes
Hero
Highlander
Hocus pocus
Hollywood
Honest
Honey
Honeymoon
Honeysuckle
Hope
Horace
Houdini
Houston
Humphrey
Hunter
Hyacinth
I
Icarus
Ice cream
Ice cube
Ike
Image
Imagine
Imperial black
Impossible Impressive
Inca
India
Indiana
Indigo
Indy
Inferno
Innocence
International
Iris
Irish
Iron
Ivory
Ivy
Izzy
J
Jack
Jacko
Jackpot
Jackson
Jamaica
Jana
Jasmine
Jason
Jasper
Java
Jazz
Jazzman
Jedi
Jelly
Jelly bean
Jet
Jewel
Jim
Jimbo
Jiminy
Jimmy
Jingles
Joey
Joker
Jolie
Joy
Jump
Jumping
June
Junior
Jupiter
K
Kalina
Kalli
Karma
Kelpie
King
Kipper
Kira
Kiss
Kiwi
Knight
Kryptonite
Krystal
Kuzco
L
Lady
Lancelot
Lavender
Legend
Lemon
Leo
Leonardo
Lestat
Level
Lex
Lexi
Liberty
Licorice
Light
Lightling
Limelight
Lincoln
Linguini
Llamrei
Lolita
Lollipop
London
Lord
Lorenzo
Lottery
Lottie
Lotus
Louis
Lovely
Lucky
Lucy
Ludwig
Lullaby
Luna
Lunatic
Lune
M
Madonna
Maestro
Magic
Magic carpet
Magnolia
Magnum
Maiko
Majestic
Major
Malachite
Malaga
Malcolm
Malibu
Mambo
Mango
Mantilla
Marcus
Marengo
Marley
Marshmallow
Martini
Marvin
Master
Matrix
Maverick
Max
Maximus
Melody
Mercury
Merida
Merlin
Mexico
Mickey
Midnight
Midnight express
Midnight sun
Miles Milky
Milky way
Millenium
Millie
Milo
Milord
Mimosa
Minstrel
Miracle
Missy
Misty
Molly
Monday
Money
Montana
Moon
Moonlight
Morning
Morning glory
Morning star
Morocco
Mouse
Mulan
Mulder
Muneca
Murphy
Mustang
Mustard
Mysterious
Mystery
N
Napoleon
Narnia
Nash
Natasha
Navajo
Navigator
Nelson
Nemo
Neon
Neptune
Nevada
Niagara
Nifty
Nightlight
Ninja
Nirvana
Noble
Norway
Notorious
Nougat
November
Nugget
Nutcracker
Nutmeg
Nuts
O
Oasis
Obi wan
Ocean
October
Odyssey
Oliver
Olivia
Olympic
Onix
Onyx
Opal
Orchid
Oreo
Orion
Orlando
Oscar
Othello
Overjoyed
Ozzy
P
Pablo
Pacific
Paddy
Paint
Paint it black
Pandora
Panther
Paris
Partner
Patch
Patchwork
Pate a choux
Pate de fruit
Patience Patriot
Peach
Peanut
Pearl
Pebbles
Pegasus
Peppercorn
Perfect
Peridot
Peter pan
Petunia
Phenomenon
Pheonix
Philadelphia
Phoenix
Picasso
Pilgrim
Pilot
Piper
Pirate
Pixie
Pocahontas
Poetry
Poker
Polar
Polka
Polly
Pongo
Pony express
Pookie
Popcorn
Poppy
Porto
Powder
Prada
Preciosa
Pride
Prince
Prince charming
Princesse
Prize
Promise
Prudence
Pumpkin
Punch
Punk
Pure
Puzzle
R
Racer
Rafiki
Rage
Rain
Rainbow
Raindrop
Rambo
Rapid
Rapide
Rapunzel
Ratatouille
Red
Reflexion
Rembrandt
Request
Resprendent
Rhapsody
Rhubarb
Rhythmic
Rico
Ring
Rio
River
Rocco
Rock
Rocket
Rocky
Rodeo
Roger
Roheryn
Romeo
Rose
Rosie
Rouge
Royal
Ruby
Rudolph
Rufus
Rumba
Rush hour
Rusty
S
Sahara
Sakura
Salsa
Sandy
Santana
Santiago
Saphhire
Sapphire
Sargento
Satine
Saturn
Savannah
Scarlet
Scooby
Seamus
Secret
Selection
Seniorita
September
Sequoia
Serenity
Sesamo
Seth
Shadow
Shan Yu
Shining star
Shorty
Show business
Showbiz
Sidney
Silence
Silver
Simba
Singer
Sky
Smokey
Snoopy
Snow
Snow queen
Snow white
Snowball
Snowdrop
Snowy
Socks
Solar eclipse
Sonic
Sonny
Sorcerer
Spain
Special
Speedy
Spice
Spider
Spirit
Splash
Spooky
Stanley
Star
Starlett
Starlight
Stella
Storm
Stormy
Story
Strawberrie
Strong
Sublime
Sudoku
Sueno
Sugar
Sultan
Summer
Sunlight
Sunny
Sunrise
Sunset
Surprise
Survivor
Suzie
Sweet
Sweet pea
Sweety
Sydney
Symphony
T
Tabasco
Tahiti
Tango
Tank
Tap dance
Tapenade
Tara
Tarot
Tarzan
Tattoo
Taxi
Taz
Teddy
Teddy bear
Tempo
Tennessee
Tequila
Ternura
Texas
Thor
Thunder
Thunderstorm
Tiana
Tiara
Tiger
Tigger
Tilly
Tinkerbell
Toby
Toffee
Tonto
Top hat
Topaz
Toque blanche
Tormenta
Tornado
Toronto
Traveler
Treacle
Treasure
Tristan
Triton
Truffles
Tucker
Tulip
Twain
Twiggy
Twinkle
Twist
Tyson
Tzar
U
Unexpected
Uno
Upscale
Ursula
Utopia
V
Valley
Van gogh
Vanilla
Vanity
Vegas
Velocity
Venus
Verona
Victorious
Viking
Viola
Vito
Volcanic
Volcano
Voyager
W
Wapiti
Warrior
Watson
Welcome
Western
Whisky
Whisper
White
Whitewater
Wild
Wildfire
Willow
Willy
Wilma
Wind song
Windsor
Winston Wizard
Woddy
Wolf
Wombat
Wonder
Woodstock
Working
X
Y
Yankee
Yellow
Yentl
Ying yang
Yoda
Yohi
Yosemite
Yoshi
Yoshiko
Young
Yuki
Z
Zanzibar
Zara
Zed
Zelda
Zen
Zephyr
Ziggy
Zinnia
Zip
Zodiac
Zombie
Zorro
Good Horse Show Names Along With Their Barn Names
We don't want you to take our word for it on Horse Show Names so we compiled a list of actual horse owners ideas on names for horse shows and brought that list to you. This information was curated from different horse forums and websites. The only thing we have changed is any grammar or spelling where it was needed.
These particular horse show names also have a suggested barn name as well.
| | |
| --- | --- |
| SHOW NAME | BARN NAME |
| All That Jazz | Jazz |
| An Ace In The Hole | Ace |
| Gold Rush Fever | Fever |
| Midnight Fever | Knight |
| Sudden Addcition | Addy |
| A Tail Of Intrigue | Into |
| Bridle Of Frankensteign | Franky Boy or Bride Girl |
| The Buck Stops Here | Bucky |
| Eats Money Makes Manure | Hungry or Mouthy |
| Jumpst To Conclusions | Thinker |
| Lips Smacking Good | Lips or Smack |
| Miss Behave | Missy Girl or Behave |
| Will Run For Food | Speed |
| No Need For Speed | Speedy |
| The Fast Lane | Laney |
| Believe Me Natalie | Nat |
| Better Than Blue | Blue |
| Indian Summer | Indi |
| Red Bud Blooming | Rose or Buddy |
| Native Night Call | Cheyenne or Apache |
| Mister Blues House Of Tunes | Blue or Tune |
| Luna Lee Fancy Me | Luna |
| Do The Cha Cha | Cha Cha |
| Hit The Deck | Dropper |
| Back N Jazzy | Jazz |
| Back N Flashy | Flash |
| What Happens In Vegas | Vegas |
| Maybe Its Maybelline | Macy |
| Finest Hour | Finally |
| Two Step | Teddy |
| Talk To Me | Quiet or Shutup |
| All It Takes | Allie |
| Lift In London | London |
| Vintage Is Best | Vinnie |
| Headed For The Silver Screen | Silver |
| Life In Hollywood | Holly or Hollywood |
| Little Miss Hotshot | Missy |
| Mr. Hotshot | Showtime |
| Written In Verdana | Danny or Danna |
| Chick Flick | Chick or Flick |
| Silence Is Golden | Goldie |
| Mr. Action Adventure | Andy |
| Miss Action Adventure | Addy |
| Infinity And Beyond | Buzz |
| Triple Threat | Ty |
| Tiramusa | Missy |
| Lil' Monster | Lily |
| Simply Serene | Serene |
| Break The Ice | Ice |
| Dance The Night Away | Danny or Danna |
| Decoder | Coda or Cody |
| Winter Wonderland | Winter or Winnie |
| Makin' Magic | Magic or Mac |
| Shadows In The Moonlight | Moon |
| Mickie The Golden Apprentice | Mickie |
| Sparks In The Fire | Sparkie |
Unique Horse Show Names
Below is a list of unique names that have been made up by other horse owners take them and use them or make up your own with the help of these enjoy.
Toffee Waffle
Toffee All Sorts
Roasted Chestnut
Dancing The Samba
Time For T
Hunting Aphrodite
Lady Bella Bee
Lady Lion
Will-I-Am (Instead of William)
Blazing Beacon
Minor Miracle
Pilot Error
Jellybean
Golden Wonda
Simon Says
Brambley Jam
Fat Boy Slim
Just A Bit
Binky Boo
Promise She'll Get Me Over This
The Austrian Oak (After Arnold Schwarzenegger)
Honey Herself
Maybe It's My Time
Causing Chaos
Constantly Causing Chaos
Keep On Causing Chaos
Its Just Chaos
Bay Warrior
Mystic Lady
Heaven Sent
Burlington Bertie
No Malic
Mischief Maker
The Showman
Grandmaster Jazz
Little Red Rascal (Chestnut)
The Moos
The Domino Effect
Just Like Clockwork
Few Other I know
Rock Monster
In Her Own Time
Arctic Rose
Lady Jane
Lighting Lou
Pollyanna Thunder
Dazzling Diva
Classy Horse Show Names
Below are some classy names we have gathered and came up with hope you like:
A Better Dream
A Better World
A Candle And A Shrine
A Chance Encounter
A Classical Debut
A Crown Awaits
A Dark Hero
Magic Carrousel
Madame De Pompadour
Maid By Design
Maid Of Honor
Majestic Charm
Mahogany Heights
A Dark Royal
Mask Of Sanity
Maverick Token
Master Plan
Master Diamond
A Happy King
A Higher Echelon
Able Lord
Bold Prince
Prized Lady
Bentley Arnage
Bentley Flying Spur
Bentley Mulsanne
Cute Horse Show Names
Below are some cute horse names that we have picked or created on our own.
Polar Vortex
Ooh La La
Paddington Bear
What The Puck
Mystery Solved
Velvet Elvis
Novel To Follow
Leap Frog
Hopscotch
Lather Rinse Repeat
Mr. Bubbles
Wingardium Leviosa (Levitating spell off Harry Potter)
Muffin Man
After These Messages
Bang-A-Rang
Et Cetera
Chaos Rains
Full Tilt Boogie
Been There Done That
Point & Shoot
Elegant Horse Show Names
Below are some elegant names that might fancy your choosing.
The Historian
The Professional
Darling Nikki
Holy Rosie
Lil' Diva
Everlong
Horse Show Names For Jumpers
Below are some names for your Jumper have at it.
Cruise Control
Limited Edition
High Performance
Comfort N Style
Hot Two Trot
Jumper's Dream
Dipped'n'Chrome
Easy Ridin
Modern Magic Carpet
Grand Touring
Beyond The Road
Continental Luxury
OVer the Top
Own Up
The Gentleman
Rocket Science
Horse Show Names For Geldings
Here are some horse show names for your non stallion male lol
Astro Turf
Bachelor Pad
Casino Royal
Deputy Dan
Eager Beaver
Farm Hand
Glitter N Gold
Hammer & Nail
Incognito
Jedi Knight
Keys To The Bensis
Legend In Disguise
Mama's Boy
Nothing To See
Odds In My Favor
Push The Bar
Quick Reflex
Robbed Again
Second To None
Tiger Shark
Under The Radar
Viva La Vida
Why Not Now
X Ray Machine
Your Wildest Nightmare
Zip Code
Funny Horse Show Names
Dreadnough
Hold MY Beer
Cocktail
Tanqueray
Rough Bough Slough
Fat Amy
Glory Days
Why Momma's Broke
Horse Rich Cash Poor
Pasture Ornament
Pasture Puff
Snort N Blow
Hayburner
Money Pitt
Graycious
Clever Horse Show Names
Caliche (For Grey means gravel in Spanish)
Collective Bargaining
San Serif
Birthday Present
Christmas Present
Saddle Pad Display
Farrier's MoneyMaker
Pending Vet Call
Cool Horse Show Names
Doppleganger
Walk On
Sixth Man
Big Man
Big Ugly
Creative Horse Show Names
On My Honor
Tough Mudder
Jack Be Quick
Buck Naked
 The Pretender
Bounce House
Secret Squirrel
Famous Show Jumping Horse Names
Milton – This amazing grey was the jumping sports first millionaire. Won many medals and two world cup finals.
Fox Hunter – 78 international competitions were won by this beautiful horse. Took the only British gold medal home at the 1952 Olympics as well.
Stroller – Stroller is the only pony to compete in the Olympics. At only 14.2 hands the pony literally could have ducked under the jumps. Took Silver Medal with Marion Coakes riding at the 1968 Mexico Olympics at the age of 18.
Boomerang – This horse won the Hickstead Derby world record 4 times from 1976 to 1979 with rider Eddie Macken.
Hellos Sanctos – Helped in the decisive Britain Team Gold Medal Win at the London Olympic Games. Rider Scott Brash has been thrown into the fame while riding this horse.
Lastic – This grey gelding broke the British showjumping high jump record by going over 7 feet 7 finches at Olympia in 1978.
Show Names For Paint Horses
Here are some great show names for paint horses:
Paint Me A Fantasy
Fantasy Muisc
Musical Note
Musical Fantasy
Indian Summer
Native Night Call
Painted Warrior
Chaos Rains
Show Names For Palomino Horses
Here are some great Palomino Show Names.
Gold Nugget
Sandstone
Sonny Is Golden
Tango Twinkle
Spirit Moon
Goldilocks
Marilyn Monroe
Vanilla Sky
Vanilla Ice
Orville Redenbacher
DOlly Parton
Golden Ticket
Mellow Yellow
Rose Gold
Fool's Gold
Atomic Blond
Quarter Horse Show Names
Here are some great Quarter horse show names to help you out enjoy:
Buck Bar Man
Champagne & Diamonds
Hawkeye
Kick The Dust Up
Turn and Burn
Dawsons Nest
Double Bid
Golden Boy
Billy The Kid
Bottom Side Up
High Dollar Girl Dolly
Phantom Dancer
Jesters Cowboy
Exclusive Gunshow
Mayanna Whiskey
Horse Show names For Chestnut Mares
Great names for Chestnut Mares:
Sophie Tucker
Imaginique
Unsinkable Molly Brown
Wild Child
Red Fashion
Girl On Fire
Blossom
FireFly
Red Hot MAMA
Crimson Tide
Scarlet Fever
Ginger Snap
Red Velvet
Lady In Red
Fire Ball
Infrared
Irish Horse Show Names
Here are some great and clever Irish Horse show names:
Irish Blessing
Bailey's Cream
Billy Shamrock
Crash McNamara
Dublin's Finest
Erin's Shenanigan's
Celtic Kiss
Jerry McGuire
Gaelic Green
Frisky Whiskey
Irish Princess
Show Horse Names For Stallions
Here are some great Stallion show names:
Blue Jeans
Razzle Dazzle
Hot Tamali
Monte Carlo
Coyote Call
King George
Better Call Saul
Spirit Of The West
Tex Mix
Auto Pilot
Gimme Smore
Horse Show Names For Grey Geldings and Mares
Here are some clever horse show names for Grey Geldings and Mares:
Foggy Notion
Grey Stroke
Smoked Duck
Overcast
Up In Smoke
Steely Dan
Platinum Plus
Partly Cloudy
Smokehouse
OutGreyGeous
Cobblestone Streets
Cloudburst
Stormy Outlook
Set In Stone
Moonstone Exclusive
Greyscale
First Frost
Grey-tness Within
Snowy River
Grey's Anatomy
The Grey Lady
Get Gray
Silver Screen
Backlit
Foggy Bottom
Grey Goose
Ashes Of Roses
Stormy Drive
Jack Frost
Chalkboard
The Ice Man
A Touch Of Grey
The Silver Lining
Ghost Town
Iron Clad
Bacardi Silver
Arabian Horse Show Names
Here are some pretty cool names for Arabian Horses:
Beauty And The Beast
Beautiful Night
Arabian Night
Bella Rosa
King Of Fortune
Roll Of The Dice
Lucky Prince
Majestic Prince
German Horse Show Names
Here are some great German horse names:
Bohemian Rhapsody
Fred And Hans
Hansel And Gretel
Ludger Und Marcus
Fritz Und Spitz
Robber and Baron
Beowulf
Spanish And Mexican Horse Show Names
Negra Modelo – means Mexican Food
Audios Senorita
Tomato Amado
Boca Raton
Rio Grande
Ocho Cinco
Rico Suave
Buenos Tardes
La Biblioteca
Dutch Horse Show Names
Here are some good Dutch horse names:
Silly Street
Make Believe
Candy Maid
Strawberry Roan
Rustic Alibi
A Moments Worth
You Bet I am Sweet
Dutch Oven
Gold Bar Jetta
Rocks My Socks
Turn And Counter
Dressage Horse Show Names
Here are some great Dressage show names:
Talk Of The Town
Dancing Moon
All That Jazz
Tattooed Fire
Ask No More
Chocolate Truffles
Return To Sender
Fancy Horse Show Names
Here are some Fancy Names For your horse:
Sha Zadeh (means prince in Iran)
Manhattan Skyline
Hudson Bay
Daddy's Overdraft
Lord Knows Who
Sunday Afternoon
Sunday Brunch
Tea Party
Crown Me Please
FairWeather
Always On Top
Granddad
Hunter Horse Show Names
Here are some great Hunter names we pulled together for you:
Fire On the Horizon
Awaken Aspen
Lost In Blue
Follow My Lead
Southern Gentleman
Just A Classic
Just Between Us
Above And Beyond
Fame And Fortune
I Wish I May
Italian Horse Show Names
Little Tesoro – Means little treasure
Affettuoso Squeeze – Means affectionate squeeze
Luminoso Squeeze – Means Bright Squeeze
Girasole – Sunflower
Sognatore – Daydreamer
Adoratore del Sole – sun worshipper
Volatore – Flyer
Buon Volatore – High Flyer
Ippocastano – Horse Chestnut:D
Liocorno or Unicorno – unicorn
One Word Horse Show Names
Here are some simple one word horse show names you can use:
Overdressed
Hoodwinked
Elantra
Expresso
Zeus
Ophelia
Waterloo
Starkissed
Imagination
Ghost
Moonshine
Nightly
Sonny
Appaloosa Horse Show Names
Here are some different Appaloosa horse names to check out:
Leap Of Faith
The Sandstorm
Flying High
Into The Mist
Into The Sunset
Into The Night
In My Pocket
Smooth Sailing
Bay Horse Show Names
Here are some great names for your Bay:
Jewel Of The Valley
NightShade
Nightvision
Chocolate Diamond
Winter Vindicate
Nightingale
Storm Singer
French Valrone
British Horse Show Names
Below are some British horse names you can choose straight from the British race tracks:
DoReMiFaSaLaTiDo
MayTheHorseBeWithU
Ha Ha Ha
Hoof Hearted
WhyKickAMooCow
Wear The Fox Hat
Canadian Horse Show Names
Eloquently Ellie
Au Naturelle
Elemental Storm
Little Miss Maple
Maple Leafy
Real Maple Syrup
Canadian Treasure
Autumn Dancer
Clydesdale Horse Show Names
Here is a list of some great Clydesdale names:
Bud Light
Bud Platinum
Tumpledry Clde
Clydette
Budweisa
Private Reserve
Honey I Shrunk The Clydesdale
Pony Keg
Bud Little
Half Pint
Other Horse Show Name Related Questions
Does A Horse Have To Have A Show Name?
A horse does not always need to have a show name. If you are showing a horse at a show that doesn't require any papers you can use whatever name you like for your horse. So that can be a barn name or any other name. If the show you are at requires papers you can just use the registered name on the paperwork.
How Do I Change A Horse's Show Name In USDF?
Changing a horses show name in USDF is actually pretty easy. Just follow the below instructions:
Login to the US Equestrian Website 
Click MyUSEF tab
Go To Your Horses Section
Click on your horse
Click Change Horse Name
Change it then add to cart
Pay the $60 fee
All set
Why Do Horses Have Letter In Their Show names?
Horses have a letter in their show names because it was a custom to show the breeders initial or the breeders farms initials. Some people like this while other hate it as you can't really tell from the name where the breeder actually came from anyway by just showing the initial.