Mini horses are wonderful friends of people, despite their small stature, they are a good help in some aspects of life. Mini horses help children with disabilities, are professional guides for blind people, and also are simply gentle pets. And not infrequently the way of young equestrian sport lovers begins with miniature horses.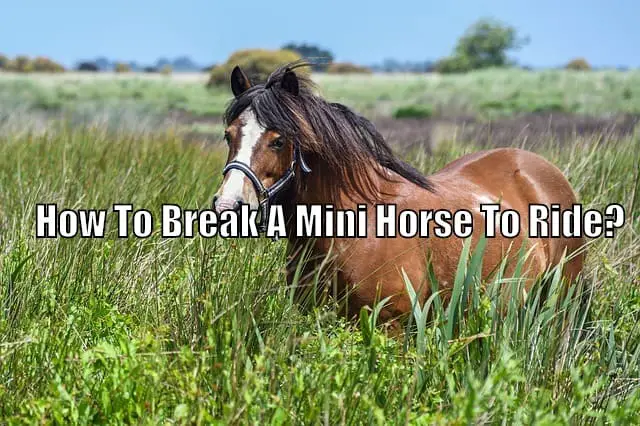 But how to break a mini-horse, so that it can be ridden? Firstly, it is important to remember about the size of a mini horse and not to force it to carry more weight than the one it can bear. Therefore, it is hardly that an adult, even with a weak physique is able to break a horse to ride. In most cases, the best helpers are children under 70 pounds, under the strict guidance of an adult tutor.
Make sure you don't miss out on the Best Gifts for any Cowgirl shipped to your door in as little as 2 days! Just Click Here to see the most popular!
Best Cowgirl Gifts
Top Cowgirl Gifts On The Market
Check Price

Top

Top

Top

Top

Horses Keep Me Stable Stemless Wine Glass
Check Price

Top

Top

Top

Top

ARIAT Women's Delilah Round Toe Western Boot Brown
Check Price

Top

Top

Top

Top

Horses Keep Me Stable Wine Tumbler
Check Price

Top

Top

Top

Top

American Rodeo Barrel Racing Swappable Grip for Phone
Check Price

Top

Top

Top

Top

Barn Hair Don't Care Baseball Cap
Check Price

Top

Top

Top

Top

Mid Rise Boot Cut Ultimate Cowgirl Riding Jean
Check Price

Top

Top

Top

Top

Heated Riding Vest
Check Price
Mini horse training
The first thing is to train a mini horse to the saddle. At first, you can simply throw in and remove the blanket so that the horse is used to the fact that there is something on its back, but without high loads. When the horse gets a little comfortable, it is worthwhile to throw a saddle on it with all the necessary equipment. When your miniature horse got used to the saddle, you can put a rider on it.
Of course, it would be great if the child already had experience in riding a horse. But even if not, the trainings will still take place under the supervision of an adult coach. For starters, you should lead a horse with a rider. And then when the horse gets used to the rider, you can try to ride as it happens on a large horse.
Worry is not worth it, mini horses are very appeasable and easy to train, especially if you start training from an early age and do not overdo the horse. At the end of training, a miniature horse will become a good friend to both adults and children. Thanks to them, it will be possible to teach young riders to ride, as well as to treat sick children. With the right approach, the horse will be calm and friendly.
How are mini horses used in treatment?
The horse well strengthens the muscles of the back, torso and limbs, and this happens symmetrically, because the horse needs to relax and repeat its movements. The horse itself moves symmetrically, and thus, "forces" the person to move with it. After all, an intensely seated person will crawl off a horse, sitting on it bareback. Hippotherapy can also treat Down syndrome and autism. Thus, hippotherapy in children suffering from Down syndrome, which in addition to social and mental problems is often accompanied by fullness, heart disease, and diseases of the gastrointestinal tract, a tonic and general strengthening effect occurs. Social skills and mental activity are improved. In addition, children develop strong motivation. For example, if to persuade a child to do some exercises at home is quite difficult, then with hippotherapy, many movements occur almost by themselves. So, the child will definitely want to stroke the horse – after all, it is soft, warm and kind – as the children themselves think. And in order to do this, you need to open the handle, which for children with muscle cramps is a rather complicated action. And in order to hold the reins, the hand on the contrary, you need to squeeze. Moreover, children do not feel that they are doing the most difficult exercises, because they want to do it.
What is the purpose of breeding miniature horses?
Mini-horses are distinguished by good endurance and resistance to external factors, which allows them to live up to 25-35 years, which is significantly more compared to regular stallions. The main purpose of breeding such breeds is decorative, mini horses are raised as ordinary domestic animals, in order to then demonstrate the results of their labors at various exhibitions. On a variety of shows produce an assessment of animals, assess their gait, exterior. The use of such horses for work purposes is not practiced often, unless they can be used to teach children how to ride a horse. A number of scientists proposed the idea of using mini-horses as companion animals for people with disabilities.
Conclusion
The miniature horse is easily dresser, just remember its size and therefore use the appropriate load. Also, do not forget that a miniature horse needs care and care, in which case riding a horse will be a pleasure, as it is for a horse or for a child.