We grew up going to rodeos either riding in them or just going as a spectator. Everything from the local fairs to traveling across the country in National High School Rodeo. These are some quotes that remind me of the good old days and the future rodeos to come. This is our personal favorite collection if you have any of your own favorite you want featured here or our on instagram page make sure to email us at admin@horsefaqs.com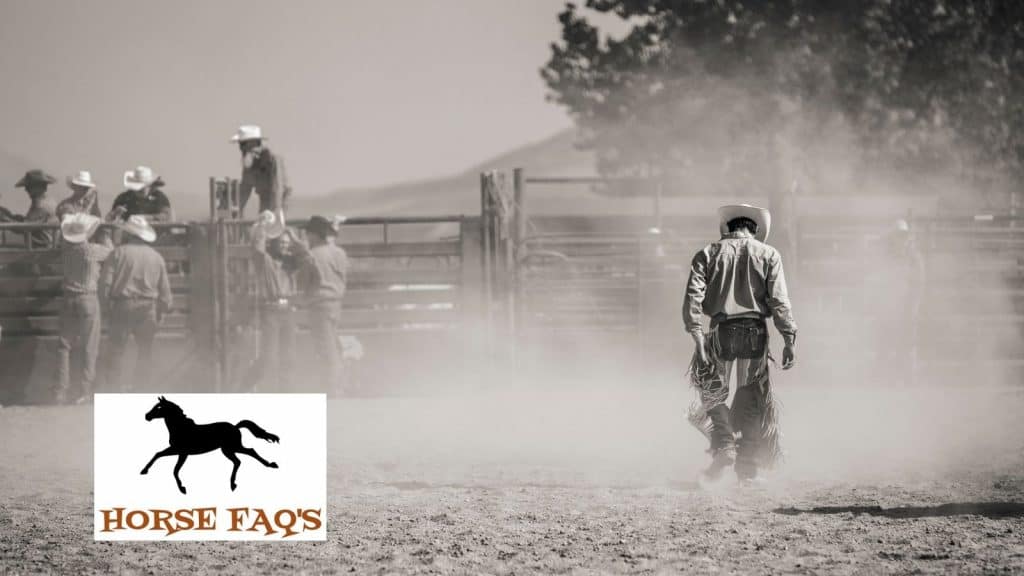 Best Rodeo Quotes
"Sometimes I think life is just a rodeo, the trick is to ride and make it to the bell."
John Fogerty
"It seems a fine line between being a matador and being a rodeo clown."
Jase Robertson
"Rodeo is about life lessons, and not just about belt buckles and winning. There is so much you can learn from a horse and a cow that you can't learn from football."
Im Wakefield
"A good old rodeo never hurt anyone."
Taylor Kitsch
"With horses, familiarity breeds comfort. If you haven't been around horses for a while (or ever), the best thing to do is to go to the racetrack, a horse show, a rodeo, or some other horsey activity, and see the horses. Familiarize yourself with the way they move and behave themselves."
Jane Smiley
"It's the ropes and the reins, and the joy and the pain. And they call the thing rodeo."
Garth Brooks
"Rodeo riders are the last of the true chivalrous groups of people. It's a place where the competition is really pure."
Scott Glenn
"That just shows how rodeo is going for a guy to win that much in one year. That's phenomenal for the rodeo."
Matt Austin
"Anyone who has ever experienced the thrill of rodeo life wishes it could go on forever."
Ralph Clark
Funny Rodeo Quotes
"No ifs, and, or bucks."
Unknown Author
"Rodeo be like up and down. 'Bout to show you how I throw down."
The Isley Brothers
"Either flare them with intelligence or puzzle them with a bull."
Unknown Author
"At times, life seems as a rodeo, a move to ride and form to the bell."
Unknown Author
"Find someone who loves you the way a cowboy loves rodeo."
Unknown Author
"If you want women not to be complainer then treat her like a racehorse."
Unknown Author
"Rodeo careers can end without warning, as quick as the next try at an eight-second ride."
John Branch
"To stop the bull from charging, seize his credit card."
Unknown Author
Famous Country Singer Rodeo Quotes
"Cowgirls don't cry by Brooks and Dunn with Reba McEntire."
You've undoubtedly heard this duet at American rodeos, whether you're a student visiting college prep boarding schools or abroad. According to The Boot, the song has been satisfying fans since its debut at the Country Music Awards in 2008.
"Mamas don't let your babies grow up to be cowboys by Willie Nelson and Waylon Jennings."
Great American Country notes, "The song is a tongue-in-cheek admonition for moms to beware if their kids desired to be cowboys when they grew up, and lists all the dangers should that happen.
"Night rider's lament by Suzy Bogguss."
It tells a story of a cowboy who chose a job above real love, and how he occasionally reflects on what may have been. Those feelings don't last long, though, as he quickly recalls why he chose a life on the range as a cowboy.
"Should've been a cowboy" by Toby Keith."
Toby Keith laments in this song that he should have been a cowboy, even though he is equally at home on a horse as he is on a stage. The Oklahoma native believes he should have learned to rope and ride in a cattle drive because, like his heroes Gene Autry and Roy Rogers, he believes he could have stolen the hearts of young girls as a cowboy. Who among us hasn't fantasized about being a cowboy on a large ranch someplace in the West, or at the very least in a movie?
"This cowboy's hat by Chris LeDoux."
One of the most well-known country songs played at American rodeos today is a tune that captures Chris LeDoux's love for country music and the American rodeo.
Rodeo Quotes for Cowgirls
"Don't mess with me fellas! This cowgirl has been to the rodeo before."
Joan Crawford
"Learn this well… the last ride is never the last ride, and the end is not the end."
Richard Rowland
"Any intelligent woman who reads the marriage contract, and then goes into it, deserves all the consequences."
Isadora Duncan
"Boots, class, and a li'll sass, that's what cowgirls are made of."
Candice Nicoles
"You have to be involved to evolve."
Glen Plake
"Have an unrelenting belief that things will work out, that the long road has a purpose, that the things that you desire may not happen today, but they will happen."
Brad Gast
"Who knows what women can be when they are finally free to be themselves."
Betty Friedan
"Women, like men, should try to do the impossible. And when they fail, their failure should be a challenge to others."
Amelia Earhart
Bull Riding Quotes
"Never a pony couldn't be ridden, never a rodeo couldn't be thrown."
Paul Zarzyski
"The bull rider in the chute apparently couldn't get his grip and kept resetting."
Sara M. Anderson
"It wasn't a question of if a bull rider got injured, but rather when and how badly."
Nicholas Sparks
"The best bulls in rodeo are unpredictable. Trying to outsmart them can lead cowboys to outsmart themselves."
Ty Murray
"For movies like The Longest Ride, I got to hang out with cowboys at rodeos and learned how to ride a bull, essentially."
Scott Eastwood
"Bull riding is not about battling the strength of the beast. It's about battling the weakness within yourself."
Unknown Author
"Scar is cowboy tattoos with better stories."
Unknown Author
"The rodeo ain't over till the bull riders ride."
Ralph Carpenter
"A good bullfighter waited. A good bullfighter did not get rush in early. Bad bullfighters rushed in and spooked a bull. That got a bullfighter or a bull rider or even a bull hurt."
Sara M. Anderson
"It is the bull and blood, the dust and mud. It's the roar of the Sunday crowd. It's the white in the knuckle and the gild in the buckle."
Unknown Author
Inspirational Rodeo Quotes
"If you're demanding a rodeo jester be thrown in the dungeons for mocking the king, don't pretend you support a free country."
Steve Stockman
"It seems a fine line between being a matador and being a rodeo clown."
Jase Robertson
"Eight seconds is a chance of fame."
Unknown Author
"Rodeo riders are the last of the true chivalrous groups of people. It's a place where the competition is really pure."
Scott Glenn
"Days Before Rodeo' is just the journey of me finding out who I am."
Travis Scott
Texas Rodeo Quotes
"The only difference between death and taxes is that death doesn't get worse every time Congress meets."
Will Rogers
"The true meaning of America, you ask? It's in a Texas rodeo, in a policeman's badge, in the sound of laughing children, in a political rally, in a newspaper… In all these things, and many more, you'll find America. In all these things, you'll find freedom. And freedom is what America means to the world. And to me."
Audie Murphy
"It seems a fine line between being a matador and being a rodeo clown."
Jase Robertson
"I was street smart, but unfortunately the street was Rodeo Drive."
Carrie Fisher
"Sometimes, in weird situations, man has to face the circumstances in which he has to drag the bull by his tail."
Unknown Author
Houston Rodeo Quotes
"Well I've always wanted to sing at something called The Houston Rodeo in my hometown, so hopefully I'll get to do that one day."
Danielle Bradbery
"All inventors, they say, are a little mad. I reckon that only completely sane people are willing to admit they are slightly crazy."
Trevor Baylis
"If he's hitting you now, stop contemplating leaving him, and just leave."
Osayi Emokpae Lasisi
"Life's a rodeo and all you have to do is stay in the saddle."
George Jung
"In my event, at a Rodeo like Houston, there might be 90 bareback riders that you're competin' with. You'll probably get three horses and you have to draw a good buckin' horse. That's mighty tough."
Chris LeDoux
"Rodeo needed more than just a rodeo every summer to keep it going. It needed industry."
Mary Sulivan
Rodeo Sayings and Phrases
"You can do anything you set your mind to."
Unknown Author
"I thought she was going to win it, she just got out-bobbed at the wire."
Jerry Hollen dorfer
"Like a rodeo round and round and up and down we go. Some days it's a battle just to stay up in the saddle."
Paul Overstreet
"That was the trouble with explaining with words. If you explained with gunpowder, people listened."
Dean F. Wilson
"Live a good, honorable life. Then when you get older and think back, you'll enjoy it a second time."
Unknown Author
"There never was a horse that couldn't be ridden; never was a cowboy who couldn't be thrown."
Unknown Author
"I am not a rodeo clown, like, "Everything is awesome!" I really worked hard on myself and things and struggled to get to a good place, to a better place."
Drew Barrymore
"Listen to your mind but be a little careful to drive a horse at a fast pace."
Unknown Author