We have most always had gelding horses growing up as they are mild tempered and get along with most all horses including mares. We have had a total of 4 studs two of which we bred and the other two were show horses. We had one horse named Tex that was a beautiful Quarter Horse stallion that we got directly from the country singer George Strait. Some of the names of our geldings over the years were Cutter, Tucker, Phantom, Doc, Dude, Playboy, Max and Freckles. Below is a list of great names for all kinds of male horses so enjoy.
What Are The Best Male Horse Names?
Once you have purchased a new horse, the first and most crucial selection you'll make is choosing your horse's name perfectly. While naming an equine, you want to make sure the name is appropriate. Perhaps the name will relate to the horse's color, attitude, breed, or bloodline.
Naming a horse adds a whole new difficulty level because not only the name has to sound awesome when called out loud, but it also has to be exclusive. Here, we have placed together the different lists of top and best equine names that you will love. Surely, these lists will help you in choosing the most appropriate name for your favorite horse.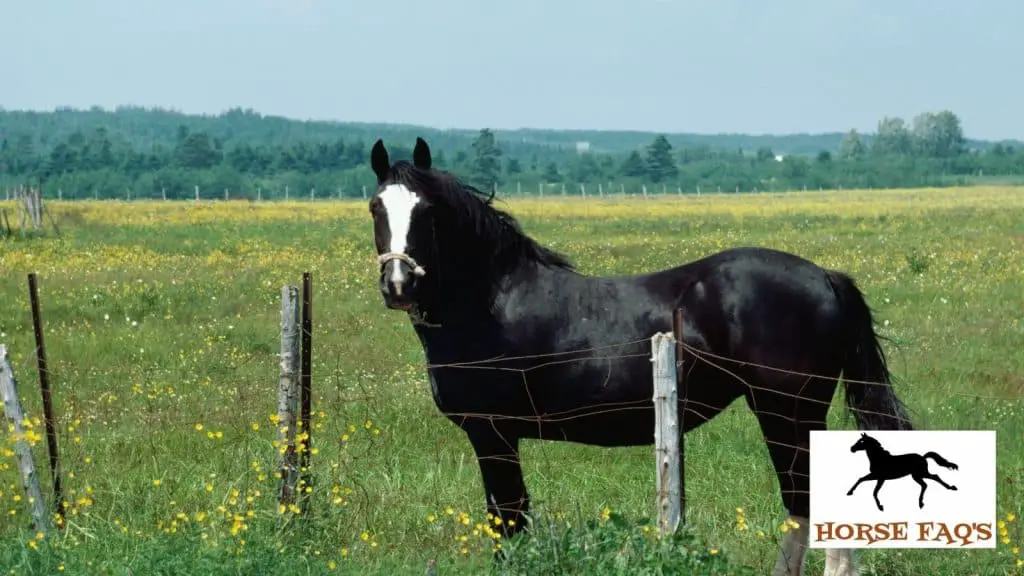 Stallion VS Gelding Names
Stallion
Turk
Amos
Clyde
Blaze
Star
Breeze
Bandit
Pirate
Genius
Marty
Zipper
Gelding
Clot
Hershey
Panther
Nevada
Jack
Whisper
Murphy
Turner
Gypsy
Mystic
Wiley
Barn Names For Male Horses
Jackson
Spirit
Alexander
Dancer
Ranger
Scout
Nightmare
Willy
Splash
Harry
Smokey
Shadow
Male Horse Names Unique
Fury
Wildfire
Maximus
Blazer
Arrow
Cloud
Calypso
Hawk
Saragon
Thunder
Raven
Hunter
Firefoot
Male Horse Names Western
Eldorado
Falcon
Grazer
Reno
Grainger
Bullet
Raider
Shanty
Knight
Duke
Trigger
Silver
Male Horse Names By Color
This category contains male horse names of the different colors such as white, black, gray, palomino, black and white, brown, and bay. Hope this list will assist you in naming your horse by their color coat.
Blondie
Butter
Dusty
Honey
Alaska
Silver
Cotton
Glacier
Shimmer
Olaf
Argent
Dale
Kara
Oreo
Scooby
Misty
Crystal
Java
Woody
Simba
Jigsaw
Male horse names in Spanish
Names Meaning
Cielo – Sky
Noche  – Night
Sombra  – Shadow
Oscuro  – Blackness
Gerardo – Courageous
Lucio – Light of day
Jandro – Protector
Rodolfo – Legendry Wolf
Azura – Sky Blue
Carlito – Freedom
Rita – Pearl
Faustino  – Fortunate
Male Horse Names And Meanings
Names Meaning
Marely March Meadows
Inferno Fiery name for the fiery horse
Aslan Chronicles of Narnia famous character
Beau Short for beautiful
Zeus God of gods
Felix Lucky
Lancelot Famous Knight
Mars God of war
Vesper Evening Star
Aherne Lord of horses
Balius Name for immortal horses
Fletch Motion of feathers
Male Horse Names For Clydesdale
Clydesdale horse originated in Scotland's Clyde Valley. It is the most recent of all the United Kingdom's heavy breeds. Color of a Clydesdale horse is usually bay. Clydesdale's horse, on the other hand, maybe black. Clydesdale horses are also available in dark brown.
Aklen
Braden
Carson
Andrew
Evan
Gaven
Alan
Chip
Scotech
Calum
Barabal
Male Horse Names For Thoroughbred
Wonder
Dancing Fire
Frankel
Kelso
Valegro
Alydar
Barbaro
Winx
Secretariat
Arrogate
Thunder Gulch
Curlin
Male Horse Names For Black Horse
Knight rider
Eclipse
Raven
Carbon
Zorro
Graphite
Ruffian
Tornado
Jackson
Caspian
Midnight
Slayer
Male Arabian Horse Names With Meanings
Arabian Names Meaning
Hayat Life
Faris Night
Malik King
Azhar Blossom
Saqr Falcon
Amir Prince
Asad Lion
Shihab Flame
Rana Gaze
Janan Beloved one
Yamir Moon
Lutfi Kind
Famous Male Horse Names
Blueskin: George Washington's horse during the Revolutionary War, a gray half-Arabian stallion.
Blackjack: Blackjack was most renowned for being a black gelding of unknown breeding who served in the US military as a caparisoned (riderless) horse for formal occasions such as funerals.
Yulong: In the novel Journey to the West, a horse transformed into a shape-shifting dragon.
Phoebe: It's most likely derived from a Greek word that mean "light" and/or "pure." As well made famous by the television show "Friends," in which the character Phoebe was sweet and good-natured, but a bit naughty.
Comanche: The only survivor of the Battle of Little Big Horn in 1876 was a Mustang horse from the US 7th Calvary.
Gulliver: Gulliver is perhaps best known as a character in Jonathan Swift's novel "Gulliver's Travels." Gulliver travels to a land where the people are all very small, making Gulliver appear to be a giant in comparison. For a horse with a great heart, Gulliver would be a fantastic name.
Marengo: Napoleon's iconic mount and another well-known war horse. This is the white horse that appears often in Napoleonic paintings.
Stonecoat: Stonecoats are colossal rock monsters. These mythical creatures are twice the size of humans and have rocky scales on their bodies. They are snow and winter creatures. This is a fitting name for a strong horse with a grey coat.
Raweno: Raweno is the Huron and Mohawk tribes' creator god. Raweno is a Japanese word that means "great ruler" or "great voice." Raweno is a kind and generous caretaker. This name may be appropriate for a horse that is supposed to be a leader or a calming power. It could also work for a very vocal horse.
Tornado: The black horse that Zorro famously rode. It was fun to marvel at how Tornado proudly held Zorro when fighting wars.
Abastor: "Far from the stars" or "deprived of the light of day" it is a Greek term. This is the name of one of Pluto's four night-black steeds, who are said to outrun the stars in mythology.
Centaur: This was the name of a form of creature that was part human and part horse in Greek mythology. They were portrayed as wild, lawless, and inhospitable creatures with animalistic desires.
Palomo: During Simón Bolvar's fights in Latin America, he mounted a white horse named Palomo.
Bucephalus: Bucephalus is possibly history's first celebrity horse. Alexander the Mighty, one of history's greatest fighters, favored the stallion. Bucephalus, described by historians as a massive beast, was acquired by Alexander when he was 13 years old, according to legend.
Copenhagen: Lord Arthur Wellesly, Duke of Wellington's famous war horse was Copenhagen. In honor of the British victory at the Second Battle of Copenhagen, he was given this name.
Comanche: The US Army's Comanche was a famous war horse known for being the only survivor of the Battle of Little Bighorn. The army purchased the horse in 1868. He was given this name because of his courage and loyalty during the fight against the Comanche, where he carried Keogh even after he was wounded. Comanche passed away in 1891.