Getting a horse is a very important and hard decision to make. Naming your horse can feel just as important and is tough especially if you plan on keeping the horse for a long time. Luckily you can name your horse a couple names like a barn name (short and sweet) and a show name which is normally a bit longer. Choose wisely and hopefully you enjoy reading our names we picked and came up with.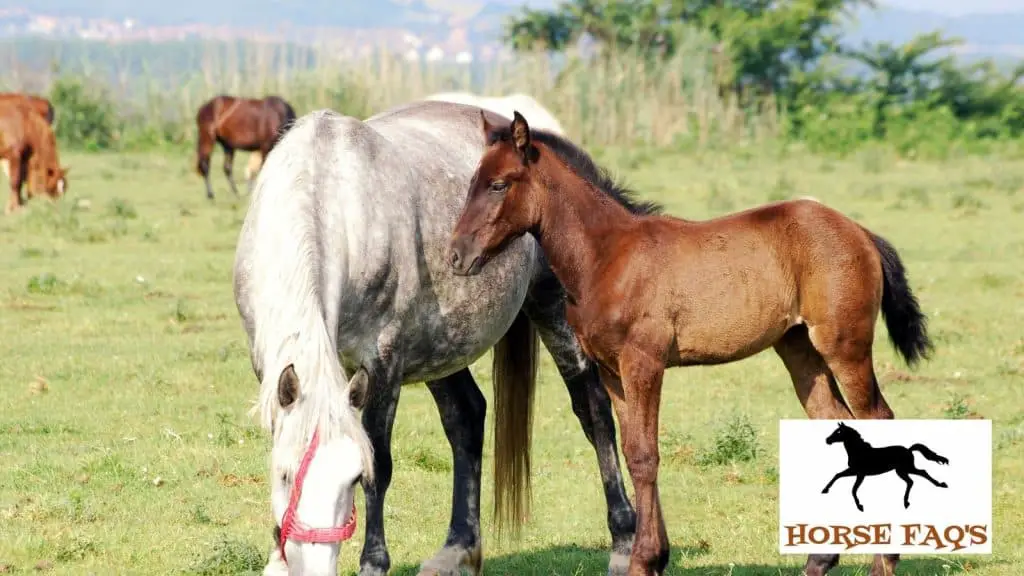 What Should I Name My Mare?
Mare names can be created from anything. They are often given names based on their breed, color, physical characteristics, and personality. Most admired mare names are one-word names as they are catchy, elegant, and easy to remember. The long names are not preferable as they are difficult to recall.
Finding a name is a difficult task because names give a sense of individuality and you want a unique name that people can recall, as well as one that fits the mare. We made this task easy for you and came up with good and unique list of female horses. Surely, these lists will assist you in making your decision.
Barn Names For Female Horses
Whisper
Callie
Rosie
Katie
Scarlet
Cerys
Gem
Dreamer
Whinny
Precious
Maxima
Sophie
Bella
Misty
Pippi
Winny
Luna
Daisy
Brandy
Verona
Angelic
Cute Female Horse Names
Flicka
Destiny
Mari Gold
Missouri
Titania
Kelly
Victoria
Holy Smoke
Indy
Olivia
Tiara
What Are White Female Horses Called?
White female horse is considered a warrior. They have white hair coats and unpigmented skin throughout their life with dark brown or blue eyes. White female horses reflect innocence, purity, as well as good fortune, and sometimes symbolize prosperity.
Pearl
Angel
Silver
Charm
Lightening
Heaven
Glory
Melody
Diamond
Ember
Daisy
Nova
Crystalline
Icecap
Lilac
Black pearl
Velvet
Raven
Marbles
Dark star
Black rose
Coco
Eclipse
Galaxy
Shadow
Female Horse Names in Spanish With Meaning
Spanish Names Meanings
Agnese Pure
Neva Covered with snow
Olinda Protector
Zerlina Beautiful down
Ria Mouth of river
Sally Savior
Bonita Pretty
Flora Flower
Morena Brunette
Unica The only one
Chico Queen of swords
Neptune
Blare
Kali
Skye
Beau
Ash
Vanilla
Wilma
Zinnia
Smoky
Graphite
Female Horse Names Brown
Honey
Bronze
Java
Grizzly
Clay
Biney
Anastasia
Peanut
Caramel
Nutmeg
Dusty
Walnut
Painted Female Horse Names
Splash
Rainbow
Crystal
Ely
Soccer
Overo
Mack
Pastel
Foxy
Colorina
Snow raven
Domino
Palomino Female Horse Names
Daffodil
Aurora
Blondie
Gold nugget
Honeybunch
Rose gold
Glitter
Goldie Hawn
Buttercup
Tawny
Famous Female Horse Names
Amber
Aqua
Wilma
Celestia
Jewel
Spirit
Argo
Ginger
Halla
April
Alexa
Haley
Famous Female Horses And Names
Oprah: a woman so dominant that the world only knows her first name.
Shadowfax: For the people of Middle-earth, this horse was known as the Lord of Horses because it could run faster than the wind, was brave in war, and had almost unending power even over long distances. You can also refer to your mare as "shadowfax".
Pegasus: What horse name is more strong or more imposing than Pegasus? the legendary winged horse from Greek mythology. If you ask me, immortality and the ability to fly are pretty powerful features. You may also call your mare by the same name.
Hera: Hera was King Zeus's wife and represented the perfect woman. The name is derived from her given name and means "queen." The name regal is fitting for a horse with the grace and aura of royalty.
Xanthus: one of two immortal horses gifted by Poseidon to the hero Peleus.
Willow: Willow gets its name from a tree of the same name, which is known for its slender branches and leaves. Despite the obstacles it faces, the tree still has the strength to stand gracefully. The name is fitting for a mare who has overcome adversity and is always able to stand with grace and vitality.
Elvira:  Female horses are usually given pretty names, and Elvira suits that bill perfectly. The name is of Spanish origin and means "real," "white," or "female."
Dinah: Dinah from Alice in Wonderland jumps to mind. She was a kitten in the film who loved sleeping and taking her time to join Alice in her adventures. The name comes from Hebrew and can be used to describe a horse that is calm and friendly with its owner.
Duchess: A Duchess is a title bestowed upon a woman who occupies a high position or is a monarch. The name is appropriate for a mare who is self-assured and shows good leadership qualities among her companions.
Camie like: Camie is simply camera-like if you enjoy taking pictures of your mare.
Marengo: Napoleon's iconic mount and another well-known war horse. This is the white horse that features often in Napoleonic paintings.
Snickers: Snickers is a popular candy that is enjoyed all over the world. Did you know, however, that the candy is named after a horse? Yes, Snickers was a beloved horse that belonged to Frank Mars, the founder of Mars Inc., who named the chocolate after his equine companion. You may also call your mare by the same name.
Jewel: A unicorn from the Narnia book The Last Battle by C.S. Lewis.
Bella: "Bella" is an Italian and/or Latin name that means "beautiful." It's a lovely name that's simple to pronounce, recall, and has a lovely ring to it. The name is well-known as the name of one of the main characters in the "Twilight" book series and subsequent films.
Arwen: In J.R.R. Tolkien's novel "The Lord of the Rings," Arwen is a fictional character. It's a lovely Welsh name that translates to "noble maiden."
Kasper: The name of the black, three-foot-tall wooden cat sculpture at the Savoy Hotel in London that is given to any group of diners with the number 13 (traditionally thought to be unlucky). Kaspar's job is to increase the number of diners in any dining party from 13 to 14, thereby shielding them from bad luck. Consider the name Kaspar if your mare has ever saved you or given you good fortune.
Top Female Horse Names And Meanings
Giving names to your mare sometimes becomes a quite challenging job. So, with the help of the name meanings, you can find the best fit name for your mare.
Names Meanings
Maia – Goddess of mountain
Asta – Divine strength
Valerie – Strength
Bella – Beautiful
Borak – Lightening
Elvira – Truth
Merry – Joyful
Lilly – Flower name
Pegasus – From Greek myth means immortal, ability to fly
Athena- Goddess of wisdom
Arwen – Lords of the Rings famous character
Lornu – Glow
Tormenta – Tornado
Sage – wise